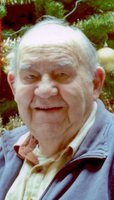 Anthony J "Tony" Militello
Anthony J. "Tony" Militello, 99, of Westfield, NY passed away on Wednesday morning, January 13, 2021 at the Dunkirk Rehabilitation & Nursing Center.
Tony was born on January 4, 1922 in Westfield, the son of the late Antony and Jenni (Pomare) Militello.
Surviving are four nephews, Edward (Jean) Lutz of Clarence, NY, Michael (Patricia) Vendette III of Dunkirk, NY, Kenneth (Cheryl) Vendette of Fredonia, NY and Timothy (Linda) Vendette of Bradenton, Fla.; a niece, Jennifer (the late Dale) VanValkenburg of Fredonia; also survived by several great-nieces and great- nephews.
He was preceded in death by two brothers, Joseph Militello and Daniel Millet, three sisters, Josephine Lutz, Mary Vendette and Julia Militello and a half-brother, Joseph Frabutt.
Tony was a lifelong area resident and a 1940 graduate of Westfield Academy and Central School. He was a proud patriot who served his country in the U.S. Army during WWII. He worked at the Westfield Post Office as a mailman for many years.
Tony had many club affiliations, having been a member of the Westfield Moose, lifetime member of the Westfield VFW, APWU (Post Office), Ham Short Wave Radio Club, life member of the Westfield American Legion, life member of the AACU. He also was a former member of St James RC Church, which is now St. Dominic's RC Church.
Tony enjoyed talking to his friends all over the world on his ham radio, gardening, cooking and especially socializing.
A graveside service will be held on Thursday, January 21 at 1 PM at the Westfield Cemetery in Westfield, NY. Arrangements have been entrusted to the Mason Funeral Home, 37 Clinton St. Westfield, NY.
To share a condolence or remembrance with Tony's family go to www.masonfuneral.com.