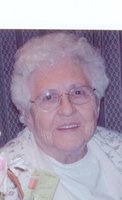 Mary J Syper
Mary J. Syper, 96, of Westfield, NY passed away peacefully on Sunday, January 10,2021 at Westfield Memorial Hospital due to an extended illness.
Mary was born on January 29, 1924 in Westfield, NY, the daughter of the late Pearl and Mary (Nichols) Beers. She married Joseph Syper on June 4, 1944 in Ripley, NY and he preceded in death on Feb. 5, 2013.
A lifelong area resident, Mary belonged to the First United Methodist Church of Westfield for 81 years. She sang in the choir, loved ushering on Christmas Eve with Joseph and taught Sunday school. Mary was a community minded individual who volunteered at the Westfield Fire Dept. and the Westfield Memorial hospital. She loved God, her family and the church family. She enjoyed making crafts of all kinds, camping, playing cards, reading, shopping and eating out. Mary worked at General electric in Erie, Pa and in the cafeteria at Westfield Academy Central School, she also helped in the grape fields of Westfield. She will be dearly missed by her family and friends.
She is survived by four children; David (Betty) Syper, Barbara (Richard)Marshall, Cindy (Dana) Williams, Annette (Rick) Foster all of Westfield; eleven grandchildren, Doug (Julie Chipman) Marshall, Dewane Penhollow, Vikki (Pat) Bowen, Ashley (Gwen) and Austin Syper, Nichole (Kevin) DeGolier, Kevin (Dunja) Luce, Angie (Ginna Morris) Syper, Dana (Jen) and Keith (Pansy) Williams and Shawn (Heather Leonard) Foster; thirty-four great-grandchildren and eleven great-great grandchildren; her nephews, Richard (Bonnie) Lancaster and Kenneth (Carole) Golden; nieces, Mary (Buddy) Rawls, Dorothy Fulford and Phyllis Wheeler.
In addition to her parents and husband, she was preceded in death by three sisters, Eleanor Lancaster, Helen Golden and Betty Saunders; a brother, Don Beers; and two nephews, Edward and Howard Golden.
Friends may call at the Mason Funeral Home, 37 Clinton St. Westfield, NY on Friday, January 15,2021 from 11-1PM where a private funeral service will be held at 1PM. Interment will follow in the Westfield Cemetery.
Memorial contributions in Mary's honor may be made to the First United Methodist Church, 101 E. Main St. Westfield, NY 14787.
Share condolences at www.masonfuneral.com.