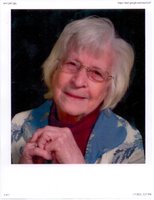 Patrica J "Pat" Helman
Patricia J. "Pat" Helman went home to be with her Lord & Savior on Saturday morning, January 2, 2021 at St. Vincent Hospital in Erie, Pa. Her love for her Lord and for her family were the utmost of her life.
Pat was born on March 14, 1928 in Erie, Pa. The daughter of the late Gleason and Ethel (Rouse) Janes. She married William J. Helman on Sept. 15, 1952. He preceded her in death in 2011.
Surviving are her dear son, Kim W. Helman of Westfield who cared for his mom daily. She and Kim had many wonderful times together always doing something. Going for rides and eating out were two of their most enjoyable things to do. A sister-in-law, Marilyn Jaynes of Westfield; eight cherished grandchildren and fifteen great- grandchildren, who filled her home with love.
She was preceded in death by two sons, James W. Helman and William J. "Billy" Helman Jr. and three brothers, Rodney, Gordon and Neal Jaynes
Pat loved her church, the First Baptist Church of Westfield. Where she enjoyed many friends and activities in her life.
A private burial will be held for the family. Memorial contributions in Pat's honor may be made to the First Baptist Church of Westfield, 19 Union St, Westfield, NY 14787.
Arrangements have been entrusted to the Mason Funeral Home, 37 Clinton St. Westfield.
To share a condolence or a remembrance with Pat's family go to www.masonfuneral.com.