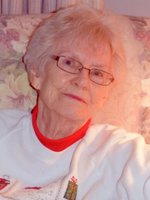 Sylvia H Colbey
Sylvia H. Colbey, 91, of Westfield, NY passed away peacefully on Tuesday evening January 5, 2021 at her home with her family at her side.
She was born on August 17,1929 in Westfield, the daughter of the late Joseph and Dorothy (McConnell) Holbrook.
Surviving are two daughters, Susan (Rick Lapsley) Barnes and Wendy (Scott) Bell; a son, R. Michael Johnston; step- children, Bonnie Townsend, Robert (Karen Townson) Colbey and David (Pauline) Colbey; and a brother, Joseph Holbrook Jr. She is also survived by eight grandsons, and numerous nieces & nephews.
She was preceded in death by her parents, husbands Robert A. Johnston and R. Peter Colbey, a brother, Austin D. Holbrook and a grandson, Bleys Colbey.
Sylvia was a graduate of Westfield Academy & Central School. She worked at Welch's, Savon Dress Shop, Westfield Memorial Hospital, Marine Midland Bank and retired after 17 years with Chautauqua County in Mayville, NY.
She and her husband Pete loved to travel with their camper in New York State and New England. Foreign travel included trips to Scotland, England, Belgium and France. After Pete's death she traveled to Ireland, Italy and Alaska.
Sylvia's memberships included the Beta Sigma Phi Sorority, Women of the Moose and the Westfield Senior Citizens.
She enjoyed knitting, baking, attending musicals, plays, and concerts, and was an avid reader. She also performed in several productions with the Westfield Little Theater. Sylvia especially cherished spending time with family and friends and will be dearly missed by all.
There will be no public services at this time. A Celebration of Sylvia's Life will be held at a date and time to be announced. In lieu of flowers, memorial contributions may be made in her name to the Patterson Library, 40 S. Portage St, Westfield, NY 14787.
Arrangements have been entrusted to the Mason Funeral Home, 37 Clinton St. Westfield.
Share condolences at www.masonfuneral.com.