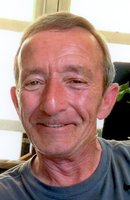 Bradley F Schuster
Bradley F. Schuster, 66, of Westfield, NY died unexpectedly on Monday morning, December 21, 2020 at his daughter Lindsey's home following a brief illness with his family at his side.
He was born on November 11,1954 in Westfield, NY the son of the late Frank and Marjorie (West) Schuster. He was preceded in death by a brother, Charles Schuster and by his wife Barbara (Smith) Schuster.
Surviving are a daughter, Lindsey (Gordon) Jaynes; two sons, Mathew (Christina) and Christopher Schuster all of Westfield; three brothers, Raymond (June) Schuster of Westfield, David (Phyllis) Schuster of Colonial Heights, VA and Arthur "Arty" Schuster of Westfield; six grandchildren, Madison and Tyler Jaynes, Mathew Jr, Derrick, Bailey and Zoe Schuster; also survived by several nieces and nephews.
He was preceded in death by a brother, Charles Schuster.
Brad was a 1972 graduate of Westfield High School. He went to work in the family business, Bestway Disposal and Container Services, out of Fredonia, NY. A business that he owned and operated with his brother Ray for over 17 years.
Brad was member of the Loyal Order of the Moose #118 in Westfield, the Summit Lodge #219 F&AM, Westfield Fish & Game Club and the Fredonia Beaver Club. He enjoyed fishing, hiking, camping and golfing with his family and friends. He also liked to try his luck at the casinos in Erie, Pa and Salamanca, NY. He will be dearly missed by his family and many great friends.
Friends may call at the Mason Funeral Home, 37 Clinton St. Westfield on Monday, December 28, 2020 from 4-7 PM. A private Blessing Service for the family will be held on Tuesday, December 29,2020 at the funeral home. Burial will follow in St. James Cemetery Westfield.
Please share condolences at www.mason funeral.com.