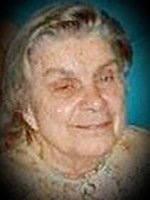 Anna M Wolfe
Anna Mae Wolfe
May 30, 1930 – December 1, 2020
Anna Mae Wolfe, 90, of Sherman, NY formerly of Westfield, NY passed away on Tuesday, December 1, 2020 at the Fairview Manor in Fairview, Pa.
She was born in Westfield, the daughter of the late Frederick and Nellie (Honeysett) Beck.
Surviving are a daughter, Kathy (Alvin Kopta) Wolfe of Findley Lake, NY; a son, Jon Wolfe of Erie, Pa; a step-daughter, Patricia (John) Mary of Fort White, Fla; a step-son, Harold "Butch" ( Susan Tewinkle-Wolfe) Wolfe of Sherman, NY; a step-daughter, Barbara ( the late Duff) Monroe of Barcelona, NY; three grandchildren, Nathan, Tyler and Chad Jaynes; also two nephews, George Beck and Kevin Perry.
In addition to her parents, she was preceded in death by a brother, George Beck and a sister, Grace Perry.
Anna was a graduate of Westfield High School in 1948. She worked for Atty. George Holt as a legal secretary and was the former payroll clerk for the Westfield Memorial Hospital.
Anna loved animals especially horses and chihuahuas. Most of all she enjoyed spending time with her family and her late sister, Grace.
Friends may call at the Mason Funeral Home, 37 Clinton St. Westfield on Thursday, December 10, 2020 from 11 AM until the time of services at 1 PM. Interment will be in the Westfield Cemetery.
To share a condolence with Anna's family, go to www.mason funeral .com.