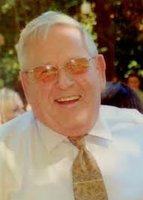 Arthur S. Betts
Arthur S. Betts ,82, of Westfield, NY passed away Wednesday evening, August 19,2020 at St. Vincent Hospital in Erie, Pa after a brief illness surrounded by his family.
He was born on July 23,1938 in Westfield, NY the son of the late Stanton and Alberta (Bills) Betts. He married Margaret L. Holbrook on September 1, 1956 in Westfield.
A Westfield area resident all of his life, he had been a grape farmer for 60 years on the family farm. Art was an avid outdoorsman who enjoyed hunting and fishing, he tirelessly followed all his grandchildren's sporting events and enjoyed racing with his son Stan. He was a NASCAR and a diehard Bills fan.
Art was a member of the Westfield Loyal Order of the Moose Lodge # 118, the Lakewood Rod and Gun Club, Farm Bureau, Cooperative Extension and the National Grape Coop.
He is survived by his beloved wife of 63 years, Peggy (Holbrook) Betts; a daughter, Rebecca (Frank) Paternosh, Stan ( Patty) Betts and Bob (Dawn) Betts all of Westfield; seven cherished grandchildren, Andrew (Jessica) Betts, Richard ( Meghan) Betts, Allison ( Marc) Schmetti, Thom (Logan) Betts, Ashley Betts, Zachary and Lincoln Paternosh; six great grandchildren, Keira Kincaid, Brookeleigh Betts, James Betts, Emma Lee Betts, Lila Betts, and Winter Schmetti; two sisters, Judy Esperson and Nancy Graham; also several nieces and nephews.
Besides his parents he was preceded in death by a brother, Charles Betts.
Funeral services will be private. Burial will be in the Westfield Cemetery.
Memorials may be made to Westfield Memorial Hospital Foundation, 189 east Main St. Westfield, NY.
Share condolences at www.masonfuneral.com.