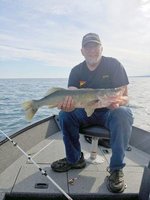 Scott M. Deming, Sr.
Scott M. Deming Sr.,56, of Westfield,NYdied Monday afternoon August 3,2020 at the county landfill in
Ellerytown,NY after being involved in a accident.
He was born in Westfield,NY on November 23, 1963 the son of the late Richard Deming and
Suzanne (Hemink) Alexander.
Scott is survived by his beloved mother, Suzanne Alexander of Westfield,NY; his loving fiancee,
Sigrid Nowell; two sons, Scott M. ( Erin) Deming Jr. of Portland,NY and Edwin M. Deming of
Brocton,NY; a daughter, Brittany M.( John Meller) Deming of Dunkirk,NY; two step-children, Lisa-
Marie Gill and Billy Nowell; six cherished grandchildren, Kaylee-Sue Deming, Kayden Meller, Scott
M. Deming III, Savannah Deming, john and Paul Gill; two brothers, Lance Deming and Michael
(Wendy) Alexander; three sisters, Lisa ( Roy) Colt, Kelly Alexander, and Shelly (Rick) Reinwand.
He was preceded in death by his step-father, Michael Alexander.
Scott worked for Bestway Container Services for a number of years. He loved the outdoors and was an
avid hunter and fisherman. He helped build race cars for dirt track racing and was part of the the pit
crew with his best friend Mike Moon. He enjoyed watching NASCAR and the Tampa Bay Buccaneers
in his free time. Scott will be remembered for his contagious laugh and great sense of humor. His
favorite activity was spending time with his family especially his grandchildren.
Friends may call at the Mason Funeral Home, 37 Clinton St. Westfield,NY on Friday, August 7,2020
from 2-4 PM. As you prepare to attend, please be mindful that face coverings and 6 foot separation are
required at all times. Funeral services will be private for the family.
To share a condolence or remembrance go to www.masonfuneral.com.