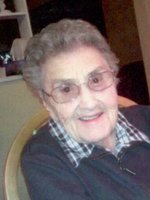 Anna F. Gligora
Anna F. Gligora, age 102, of Brocton, N.Y., died Friday morning, June 5, 2020, at the Chautauqua Nursing and Rehab Center in Dunkirk, N.Y.
Anna was born Oct. 16, 1917 in Erie, Pa., the daughter of the late Eugino and Nicalina (Rubino) Sorentino. She married Joseph Gligora on April 25, 1936 in Erie, Pa. He preceded her in death on July. 2002.
A Chautauqua County resident most of her life, having moved here from Erie, Pa., Anna and her late husband, Joseph ran a dairy farm in Portland, N.Y., on Barnes Road for many years. They then operated a fruit and vegetable farm on Onthank Road also in Portland for several more years. Anna was a dedicated homemaker and an awesome cook.
She is survived by two daughters: Rose Brumagin of Brocton, N.Y., and Debra English of Auburn, N.Y.; eight cherished grandchildren: Roxanne (Nick), Al (Cheryl), Steve, Karen, Judy, Dennis (Bonnie), Joey, Amy (John); many great and great-great grandchildren; also survived by her daughter-in- law Peg Gligora.
She is predeceased by her husband of 62 years, Joseph Gligora; two sons: Joseph and Eugene Gligora; three brothers: Joseph Sorentino, John and Daniel Ruggiero; and four sisters: Frances Sorentino, Angeline Conti, Ann Buzzanco and Rose Fox.
A private service arranged by the Mason Funeral Home, 37 Clinton St. Westfield, N.Y., was held by the family. Interment was in the Portland Evergreen Cemetery.
The family suggests memorials in Anna's honor to the Chautauqua Hospice & Palliative Care 20 W. Fairmont Ave. Lakewood, NY 14750.
Please visit www.mason funeral.com to share memories and condolences.