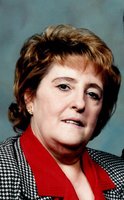 Virginia A. Warner
Virginia Ann Warner, age 80, passed away on August 20, 2019 at Heritage Green Rehab and Skilled Nursing Facility in Greenhurst, NY.
Virginia was born on September 9, 1938 the daughter of the late Charles C. and Florence (Grien) Bourne. She had lived the majority of her life in Westfield.
Virginia was a longtime and loyal employee of Welch's, and had worked in both the Westfield and North East plants. She retired following 33 years of service.
She was a member of The United First Methodist Church of Westfield and Women of the Moose. In earlier years, she was an avid bowler and loved to read and do puzzles. She loved her children and grandchildren and doted on them.
Virginia is survived by her two sons, Gerald Jr. (Pamela) Warner of Sherman and David C. (Donna) Warner of Jamestown. Also surviving are three granddaughters, Kelly (Lee) Ulsh of Mayville, Holly (Douglas Jr.) Keppel and Theresa (Joseph) Jackson of Jamestown. She is further survived by her brother, George "Pete" (Dorothy) Bourne of Westfield, several great grandchildren, nieces, nephews, and wonderful friends. She will be greatly missed by all who knew her.
In addition to her parents, she was preceded in death by her husband of 61 years, Gerald L. Warner, Sr., whom she married in 1954 and who died in 2015, as well as by her brother Kenny Bourne, and her granddaughter, Amanda Warner.
Friends may call on Thursday, September 5, 2019 at the United Methodist Church of Westfield, 101 E. Main St., Westfield, NY, from 10 AM until the time of Funeral Services there at 11 AM with Rev. Nicholas Perry officiating. Private burial will be in Westfield Cemetery
Memorials may be made to the Westfield Fire Department Memorial Fund, 23 Elm St., Westfeild, NY 14787.
Funeral arrangements have been entrusted to the MASON Funeral Home, 37 Clinton St., Westfield, NY 14787. Log on to www.masonfuneral.com to send the Warner family a message of sympathy, to light a Memorial Candle or for further information.