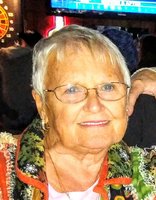 Darlene B. Smith
Darlene B. Smith, age 84, of Westfield, died Thursday, December 6, 2018 at Banner Desert Medical Center of Mesa, AZ following a brief illness.
Darlene was born on January 27, 1934 in Dunkirk, NY, a daughter of the late George and Doris (Duncan) Green.
A Westfield resident most all her life, Darlene was a 1952 graduate of Brocton High School and was an active member of the Wm. P Jackway Post 6764 VFW Auxiliary, where she served as President and Chaplain and was also a member of the Women of The Moose Chapter 517, both of Westfield. Darlene was a longtime member of the First United Methodist Church of Westfield.
She retired from the Chautauqua County Clerk's office in 1995 as Deputy Clerk following 28 years of service. Darlene enjoyed traveling, cooking, sewing and quilting.
However, more than anything else, Darlene loved and enjoyed spending time with her family, especially her grandchildren and great grandchildren.
She is survived by two sons: Bradley R. (Darcy) Smith of Westfield, NY and Blaine A. "Tiger" Smith of Cheyenne, WY. Darlene is further survived by her two grandsons, Bradley R. (Amy) Smith, Jr. of Stockton, NY and Brandon J. (Cortni) Smith of Westfield, as well as her great grandchildren, Bradley R. Smith, III, Mia Diane Smith, Avery Brook Smith and Cade Roger Smith. She is also survived by her sister Kay N. Mackie of Missouri and Roger D. green of Texas. Many nieces and nephews also survive.
She was preceded in death by her husband, Robert W. Smith, whom she married on March 31, 1956 and who died on May 23, 2007, and by her two sons, Bret D. and Brian K Smith, as well as by her 2 sisters, Patricia L. Lanz and Carol Bane and by her brother, Dr. George F. Green, PhD.
A Memorial Service will beheld on Saturday, January 12, 2019 at 1 PM at the First United Methodist Church of Westfield, 101 East Main Street, Westfield, NY.
Memorials may be made to Smith Field Monument Maintenance Fund, c/o Village of Westfield Recreation. Dept., 23 Elm St., Westfield, NY 14787.
Funeral arrangements have been entrusted to the MASON Funeral Home, 37 Clinton St., Westfield, NY 14787. Log on to www.masonfuneral.com to send the Smith family a message of sympathy, to light a Memorial Candle or for further information.