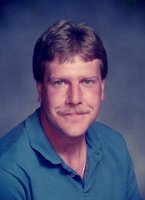 Jeffrey R. Guest
WESTFIELD - Jeffrey R. Guest, age 63, of Westfield, NY died unexpectedly on Wednesday, October 17, 2018 at Westfield Memorial Hospital due to complications from a year long battle with cancer.
Jeff was born on April 16, 1955 in Westfield, NY, a son of the late Elmer J. and Charlotte E. (Keopka) Guest.
He was a 1973 graduate of Westfield Academy and Central School. Following graduation he was employed by the former Belknap Business Forms, Inc. in Westfield. Shortly after he became an auto detailer for Raynor Chrysler Plymouth of Westfield, NY. After the closing of Raynors, Jeff became employed by the Schults Auto Group and Valone Ford in Fredonia, NY.
After being together for ten years, Jeff married Mindi Newcombe on April 15, 1989 at the First Presbyterian Church of Westfield.
He was a member of the Loyal Order of Moose Lodge #118 and John W. Rogers Post #327 American Legion. He was a charter member of the Sons of the American Legion Squad 327 where he served as Commander for over 12 years. He was also a former member of the VFW Post 6764 in Westfield.
Jeff coached in Westfield for over 20 years. He was a coach for Westfield Midget Football, Westfield Youth Soccer and Girls and Boys Youth Basketball.
He was an avid Yankees and Sabres fan and a faithful Buffalo Bills Fan. He collected baseball cards and participated in a fantasy football league. Over the years he played in a fast pitch softball league and a pickup basketball league. He enjoyed anything that had to do with nature. He loved gardening, ice fishing and his Canada camping trips with friends.
Jeff is survived by his wife of 29 years and his two daughters: Erin R. Guest and Kathryn C. Guest both of Westfield, NY. One sister, Julia (Dennis Meyers) Guest of Silver Creek, NY; his brother -in -law, Joe B. Newcombe of Mayville, NY; and his two nephews, James E. Murphy of Silver Creek, NY and Brian A. Murphy of Pomfret, NY.
He was preceded in death by his parents and a brother, Thomas W. Guest.
Friends may call on Monday, October 22 from 1-3 PM at the MASON Funeral Home, 37 Clinton Street, Westfield, NY and are invited to attend the funeral service there at 3 pm with Pastor Carmen Perry officiating. A reception will follow at the American Legion in Westfield at 4 PM. Burial will be private in the Westfield Cemetery.
Memorial contributions may be made to the Sons of the American Legion Squad 327,
PO Box 414, Westfield, NY 14787 or to the Westfield Fire Dept. Rescue Squad, 20
Clinton Street, Westfield, NY 14787.
To light a candle, leave a message of sympathy for the Guest Family, or for more information log on to www.masonfuneral.com