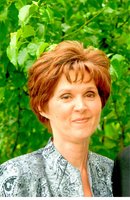 Patricia Louise Zanghi
WESTFIELD - Patricia Louise (Higbee) Zanghi, age 58, of Oak St., Westfield, died Sunday, May 14, 2017 at home of metastatic breast cancer, surrounded by her family. Cancer claimed her body, but she never surrendered to cancer. A selfless and beautiful person, wife, mother and friend, she possessed amazing strength and courage. After you have lost your hair to chemo, there are no bad hair days ever again. She also had quirky eating habits and laundry preferences that she passed to her children.
Patty was born August 2, 1958 in Grand Rapids, MI, the daughter of Donald L. Higbee of Dade City Florida and the late Ida Talitha (Watts) Higbee.
She was well known for walking an average of four miles a day throughout Westfield, either alone or with her husband, regardless of the weather. Her morning walks provided a timer for parents and students on their way to school.
Patty volunteered for the Brenda K, Eno Breast Cancer Awareness walk/run every year of its existence and also volunteered for eleven years for the Westfield Recreation Department roller skating program.
She was a 23 year employee at Welch's Westfield office, remaining with the company until it closed the Westfield computer center. While at Welch's she met the love of her life and best friend walking at lunch one day. She worked with her husband as office manager, administrative assistant, paralegal, receptionist, snow shoveler and most everything else of his solo law practice in Westfield.
She is survived by her husband of 29 years, Stephen P. Zanghi, whom she married on June 20, 1987 and by her two sons, Brian T. (Corinne) Heinrich of Mooresville, NC, and Philip S. (Daniel Kennedy) Zanghi of Davidson, NC. Patty was the proud grandmother of Brody Jaxon Heinrich of Mooresville, NC. Also special to Patty was her Goddaughter, Allison R. Thompson Genco of Jamestown, NY. She was a godparent also to Allyssa Catalano and Michael Nowicki. She tolerated other people's house pets (NOT a fan of dog hair and licking and all) but had a genuine bond with her new grandpuppy, Phoebe.
Tricia leaves behind her "Seester", Cynthia "Celeste" McCloskey, and her husband, Robert D. McCloskey of Portland, NY, their children and grandchildren, and "Nan" (Linda Ingham).
She is further survived by her three sisters: Beverly Nowicki of Fredonia, NY, Kathy Warsitz of Brooksville, FL and Debra Lott of Turlock, CA, and two brothers: David Higbee of Granite City, IL and Les Higbee of Dade City, FL, many nieces, nephews and countless friends.
Keeping with Patty's request, all services will be private. A Memorial Service will be announced at a later date.
Flowers are gratefully declined. Memorials are suggested to the Patterson Library, 40 So. Portage Street, Westfield, NY 14787, or to The Pink Pillow Project, P.O. Box 885, Getzville, NY 14068, (thepinkpillowproject.com).
Funeral arrangements have been entrusted to the MASON Funeral Home, 37 Clinton St., Westfield, NY 14787. Log on to www.masonfuneral.com to send the Zanghi family a message of sympathy, to light a Memorial Candle or for further information.