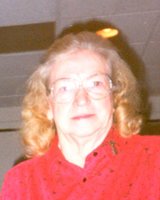 Hazel L Nichols
Hazel L (Freer) Nichols, age 90, of East Avenue, Westfield, NY, formerly of Bradford, PA, died Tuesday, April 25, 2017 at home in Westfield.
Hazel was born on December 23, 1926 in Bradford, PA, the daughter of the late Freeman and Margaret Louise (Vanover) Freer.
Hazel had been employed by Corning Glass Works of Bradford, PA for over 45 years prior to her retirement. She was a member of former Cootiettes Club of Pennsylvania where she was a very active member and was also a member of the VFW of Bradford.
A Bradford area resident most all her life, she moved to Westfield, NY 6 years ago to be closer to son. She enjoyed crossword puzzles and loved to read. Her sense of humor was a beloved trait that her family will always remember. She loved long rides in the car, even if by herself, because she loved to drive. Hazel was an avid garage/yard sale visitor and enjoyed distributing her treasures to her children and grandchildren. Her love for her family was everything to her.
She is survived by two daughters, Marianne (Ralph) Everly of Bradford, PA and Eve Lewis-Samara Dulmaine of Jamestown, NY, and one son, Freeman (Erma) Nichols also of Jamestown. She is further survived by her Daughter in Law, Mary Ann (late Terry) Nichols of Westfield, NY. Many Grandchildren, many more Great Grandchildren and several Great Great Grandchildren also survive.
She was preceded in death by her Son, Terry L. Nichols and her brother, Harry Freer.
Friends and family are invited to attend a Graveside Service to be held at 2:00 pm on Friday, April 28, 2017 at Mckean Memorial Park, 85 Boylston St., Bradford, PA.
In lieu of flowers, memorials may be made to American Cancer Society, 95 Main St, Bradford, PA 16701.
Funeral arrangements have been entrusted to the MASON Funeral Home, 37 Clinton St., Westfield, NY 14787.
Log on to www.masonfuneral.com to send Hazel's family a message of sympathy, to light a Memorial Candle or for further information.