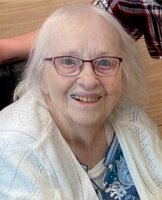 Grace L Schlick
Westfield-Grace L. Schlick, 95, of Erie, Pa. formerly of Westfield, NY, passed away peacefully on
Thursday evening, November 10, 2022 at the LECOM Senior Living Center in Erie.
Grace was born on October 30, 1927 in Silver Creek, NY, the daughter of the late Wesley and Louise
(Clees) McDaniels.
She is survived by a son, Jon (Denise) Schlick of Erie, Pa; two cherished grandchildren, John and Joanna
Schlick.
In addition to her parents, Grace was preceded in death by her husband of 66 years, John W. Schlick and
three brothers, Charles "Melvin", Harley and Hubert McDaniels.
Grace was a 1946 graduate of Silver Creek High School. She continued her education at Bryant &
Stratton College in Buffalo, NY earning an associate degree in Business Administration.
On May 20, 1950 she married the love of her life John W. Schlick in Silver Creek. They resided in
Westfield where they lived many happy years together raising their family and enjoying life.
Grace worked as a pharmacy tech for the Westfield Memorial Hospital and also for the family pharmacy
E.L. Kingan and Co. in Westfield, which was owned by her father-in-law, Clarence P. Schlick., later known
as Kingan Pharmacy.
Grace's memberships included the First United Methodist Church of Westfield and the Patterson
Chapter of Daughters of the American Revolution.
She enjoyed bird watching, cats, and puzzles of all kinds, the more challenging the better, anything to
keep her mind sharp. Most of all she cherished spending time with her family, especially her
grandchildren.
Friends may call at the Mason Funeral home, 37 Clinton St. Westfield, NY on Tuesday, November 15,
2022 from noon -2 p.m., where services will be held at 2 p.m. with Pastor Dave Voelker of East Lake
Road Alliance Church of Harborcreek officiating. Burial will be private in the Westfield Cemetery.
In lieu of flowers, memorials in Grace's memory may be made to the Erie VNA Hospice Services, 2253
West Grandview Blvd. Erie, PA 16506 or the First United Methodist Church of Westfield, 101 E. Main St.
Westfield, NY 14787.
Please share condolences at www.masonfuneral.com.