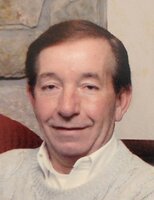 Raymond L Schuster
Raymond L. Schuster
Nov. 8, 1943 – June 27, 2022
Raymond L. Schuster , 78, of Westfield, NY passed away unexpectedly on Monday morning, June 27,
2022 at the Westfield Memorial Hospital.
He was born in Westfield, NY, the son of the late Frank and Marjorie (West) Schuster. On June 22, 1968
he married June M. Dulmus at St. James RC Church in Westfield.
Ray is survived by his beloved wife of fifty-four years, June Schuster; two loving sons, Eric (Dani)
Schuster of Westfield and Erin (Fann) Schuster of Mayville, NY; three cherished grandchildren, Cala,
Asher and Gannon Schuster; two dear brothers, David (Phyllis) Schuster of Colonial Heights, Va. and
Arthur Schuster of Westfield.
He was preceded in death by two brothers, Charles and Bradley Schuster.
Ray was a lifelong area resident of Westfield, who graduated from Westfield Academy and Central
School in 1962. He owned and operated Westfield Disposal Service and Bestway Container Services of
Fredonia, a business he worked alongside his brother Bradley.
Ray's hobby in life was his work in general, serving the community and spending time with his family,
especially his grandchildren. He also enjoyed coaching his sons in the Westfield Little League, they
played for the Blue Sox.
He was a lifetime member of the Westfield Moose Lodge # 118, VFW Post #6764 and the American
Legion Post # 327 and he served on the Westfield Town Board for 16 years.
The family suggests memorial contributions in Ray's memory to the John R. Oishei Children's Hospital,
818 Ellicott St. Buffalo, NY 14203, specifically to Cystic Fibrosis Research.
Relatives and friends may call at the Mason Funeral Home, 37 Clinton St. Westfield, NY on Friday, July 1,
2022 from 2-4 & 6-8 PM. A Mass of Christian Burial will be celebrated on Saturday, July 2, 2022 at St.
Dominic's RC Church, 15 Union St. Westfield at 10 AM. Interment will be in St. James Cemetery
Please share condolences at www.masonfuneral.com.