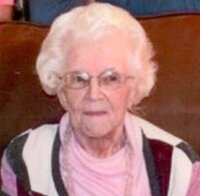 Beatrice Morrison
Beatrice Morrison, 94, of Martin Wright Road, Westfield, NY passed away peacefully on Sunday morning, May 29,2022 at her home with her family at her side.
Beatrice was born on August 1,1927 in Fredonia, NY, the daughter of the late Fred and Mabel (Erickson) Thompson. She married the love of her life Alvyn James Morrison on October 27,1945 at the Brocton Baptist Church in Brocton, NY.
She is survived by six loving children, Yvonne (John) Blackburn of Westfield, Kathleen (Peter) Seidler of Hamburg, NY, Charlene (late Jerrold) Gilmore of San Antonio, TX, Kenneth Morrison of Fredonia, NY, Richard (Lynn) Morrison of Westfield and James (Rachel) Morrison; a dear sister, Mary (late Rocky) Coronato of Easley, S.C; 26 cherished grandchildren, 53 great-grandchildren and 2 great-great grandchildren.
In addition to her parents, Beatrice was preceded in death by her husband of 72 years Alvyn James Morrison and a son, Lewis Morrison.
An area resident all her life, Beatrice worked along side her husband on their beef cattle farm on Martin Wright Road in Westfield for many years. She was a faithful member of the Brocton Baptist Church. She loved the Lord Jesus with all her heart. She served her church and her faith in many capacities. She loved her family and embraced family fellowship as a priority.
Friends will be received on Saturday, June 11,2022 from 10 AM until 12 noon at The Brocton Baptist Church, 33 West Main St., Brocton, NY, where a Memorial Service will be held at 12:00 Noon with her nephew, Rev. Larry Morrison officiating. Burial will be private in the Webster Cemetery.
Memorials may be made to The Brocton Baptist Church, 33 West Main St. Brocton, NY 14716.
Funeral arrangements have been entrusted to the Mason Funeral Home, 37 Clinton St. Westfield, NY 14787. Please share condolences or remembrances with Beatrice's family at www.masonfuneral.com.