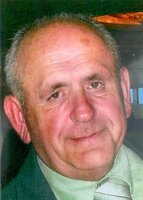 William H. Stratton
William H. "Bill" Stratton, 79, of Westfield, NY passed away on Tuesday, May 24, 2022 at the Heritage Green Health Care Center in Greenhurst, NY.
Bill was born in Buffalo, NY on August 30, 1942, the son of the late G. Rexford and Marion (Wagner) Stratton. He married Judy Hanson on August 20, 1966 at St. James Major RC Church in Westfield, NY.
He is survived by his beloved wife of 55 years, Judy Stratton; three loving children, Diane (Jeffrey) Miraglia of Lakewood, NY, Michele (Paul) Steward of Randolph, NY and Michael (Katie) Stratton of Westfield; four cherished grandchildren, Ryan Miraglia, Megan and Jacob Steward and Adisyn Jaynes; a dear brother of Robert (JoAnne) Stratton of Highland Park, CO and Margaret Ann (late Charles) Burleigh of Winston Salem, NC.
Bill was a 1960 graduate of Westfield Academy and Central School. He served his country in the U. S. Army from 1964-1966. He continued his studies at Bryant & Stratton College, earning an Associate Degree in Business Administration.
Bill was the former owner & operator of the Westfield Liquor Store for more then 20 years. He also worked for and retired from Red Wing in Fredonia, NY.
He had many club affiliations, having been an active member of Westfield Volunteer Fire Department, the former Jaycees, the Chamber of Commerce, Loyal Order of the Moose, American Legion, the Deutschmeister Brass Band for twenty years, where he played the trombone and was a former treasurer, he also belonged to St. Dominic RC Church.
Friends may call at the Mason Funeral Home, 37 Clinton St. Westfield, NY on Friday from 11-1PM, where a funeral service will be held at 1 PM. Interment will be at St. James Major Cemetery.
In lieu of flowers, the family suggests memorial contributions in Bill's memory to the Westfield Volunteer Fire Department, 20 Clinton St., Westfield, NY 14787.
Please share condolences at www.masonfuneral.com.