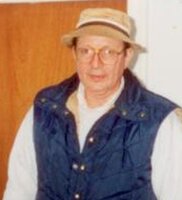 Roger LeRoy Dibble
Roger L. Dibble, 84, of Westfield, NY passed away peacefully on Thursday afternoon, February 17, 2022 at Corry Manor nursing home in Corry, Pa.
Roger was born in Westfield on May 21, 1937, the son of the late E. Carlton and Arlene (Burnett) Dibble.
Roger was a lifelong area resident of Westfield, he was born on the family farm on Fish Rd, the second of five sons. He graduated from Westfield Academy and Central School, "Class of 1955". He proudly served his country in the U. S. Army from 8/15/1960 to 8/14/1962. He worked for the railroad for a short period of time and then the Village of Westfield from 1963-1967 in the Electric Dept. Roger transferred to GE in Erie, Pa. where he was employed from 1967 until his retirement in 2000.
Roger enjoyed reading, playing cards, working crossword puzzles, meeting his friends at McDonalds daily for coffee to get the latest scuttlebutt. He had his own private booth. But most of all he loved spending time with his family.
He is survived by three sons, Jeffrey and John Dibble of Westfield, James (Angel) Dibble of Modesto, CA; a daughter, Catherine (Barry) Wright of Westfield; six grandchildren, Brandon (Desi), Tesla and Tyler (Monika), Cameron (Elizabeth) Wright, Sara (Jeffrey) Wegmiller and P.J. Plasse; twelve great-grandchildren; a brother, Larry Dibble of Westfield.
Besides his parents, he was preceded in death by three brothers, Edward, Thomas and Gary Dibble.
A Celebration of Roger's Life will be held at the convenience of family, date and time to be announced.
Arrangements have been entrusted to Mason Funeral Home, 37 Clinton St. Westfield, NY.
Please share condolences or remembrances at www.masonfuneral.com.