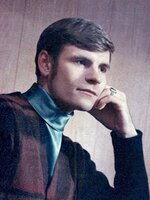 Harold H Wolfe
Harold H. "Butch" Wolfe, 81, of Sherman, NY formerly of Westfield, NY passed away Wednesday afternoon August 18, 2021 at his home with his family at his side after a courageous battle with cancer.
He was born on July 21, 1940 in Westfield, the son of the late Harold "Prof" and Rae (Sharpe) Wolfe. On April 5, 1977 he married Susan Tewinkle- Reyda in Westfield.
Surviving are two sons, Alex (Julie) Reyda of Westfield and Jason Wolfe of Cloudcroft, NM; five daughters, Robin Wolfe- Cone of Dallas, TX, Karen (Bradley) Woolaway of Campbell, NY, Cindy Wolfe of Fredonia, Nicole (Don) Ross of Niskayuna, NY and Rita (Juan) Quevedo of Northeast, PA; three sisters, Barbara Monroe of Barcelona, NY Kathy Wolfe of Findley Lake, NY, Patricia Mary of Fort White, FL; a brother, Jon Wolfe of Northeast, PA; eighteen grandchildren and five great- grandchildren; also survived by his beloved cat, "Little Bill".
In addition to his parents he was preceded in death by a son, Daniel Wolfe.
Butch was the former owner and operator of A-1 Moving & Storage in Westfield, NY.
He was a member of the Westfield Moose Lodge 1255 and the Jaycees. He also served for many years as trustee and as a mayor of Sherman, NY.
Butch enjoyed bowling and was very accomplished at it having played for more than thirty years in different men leagues and tournaments. He loved baseball his favorite team was the NY Yankees.
At the request of the deceased services were private.
Memorial contributions in Butch's honor may be made to the Roswell Cancer Ctr 665 Elm St. Buffalo, NY 14203.
Arrangements have been entrusted to the Mason Funeral Home, 37 Clinton St. Westfield.
Please share condolences at www.masonfuneral.com.