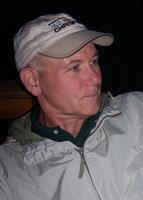 Peter B Best
Peter B. Best, 74, died August 6, 2021 at St. Vincent Health Center following a long battle with COPD.
Pete was born in Westfield, NY on September 10, 1946, the son of George and Vivian (Mettendorff) Best. He was a 1964 graduate of Westfield Academy and Central School and a 1967 graduate of Jamestown Community College.
Pete was a Vietnam War veteran, serving in the U.S. Army from 1967-1970, which included a year with the 5th Special Forces Group. He was employed by the village of Westfield as deputy village clerk-treasurer, clerk-treasurer, and treasurer for 26 years, and then, as district treasurer by Gowanda Central School. He also worked for Chautauqua Hardware Corp. in Jamestown, NY.
Pete was a member of St Peter's Episcopal Church, John W. Rogers American Legion Post 327, William P. Jackway VFW Post 6764, and Ellery Center VFW Post 557. He was a former member of the Cascade Hose Company and the Westfield Loyal Order of the Moose, and a former EMT with the Westfield Fire Department Rescue Squad. He loved sports, serving as a coach for Westfield's Little League and Babe Ruth baseball organizations. A devoted Boston Red Sox and Detroit Lions fan, Pete also enjoyed the thrill of watching NCAA March Madness games with his son and, in particular, watching his grandsons play sports.
He is survived by his wife of 53 years, Carol Shearer Best, who he married December 23, 1967 in Westfield; his daughter, Lisa (Alan Maybach) Best of Jamestown, NY; and his son, Darren (Stacey) Best of Huntersville, NC. Peter was a proud grandfather to Shawn (Maggie Mason) Kilmer of Bear, DE and Logan and Brayden Best of Huntersville, NC.
He is further survived by his sisters, Trudy (Ronald) Thompson of Bemus Point, NY and Bridget (Richard) Johnson of Ashville, NY, and brothers, Quentin George "Q.G." (Kathy) Best and Harry "Casey" (Debbie) Best, both of Westfield. His sisters-in-law, Pamela Fahnestock of Winchester, VA and Susan Shearer and Laura Shearer of Westfield, also survive him, as well as many nieces and nephews.
He was preceded in death by his parents and a brother, William Best.
His family thanks the Westfield Fire Department Rescue Squad and the nurses and staff at Westfield Memorial Hospital and St. Vincent Health Center for their compassion and care.
A funeral will be held at 11 a.m. on Thursday, August 12, at St. Paul's Episcopal Church, 99 S. Erie St., Mayville, the Rev. Dr. Richard B. Elberfeld, Jr. officiating. A reception will be held afterwards at the John W. Rogers American Legion Post, 7579 E. Main St., Westfield. A private burial will be held at a later date in Westfield Cemetery.
In lieu of flowers, memorials may be made to the Westfield Fire Department Rescue Squad, 20 Clinton St., Westfield, NY 14787 and Westfield Memorial Hospital, 189 E. Main St., Westfield, NY 14787.
Arrangements have been entrusted to the Mason Funeral Home 37 Clinton St. Westfield, NY. Share condolences or remembrances at www. Masonfuneral.com.