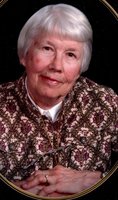 Nancy Jean Hanks
Nancy Jean Bentley Hanks, 90, of Westfield, NY passed away on Saturday morning January 23, 2021 from Covid – 19
complications at UPMC Chautauqua Hospital in Jamestown, New York.
She was born in Westfield, New York on April 27, 1930, the eldest daughter of Roy Richard
Bentley and Francis Marie Sophie Knoll.
Nancy started school in a one room schoolhouse and graduated from Westfield Academy and
Central School and then attended Fredonia State Teachers College.
In 1949, she married Charles Albert Hanks of Westfield. Charlie and Nancy worked with Roy and
Francis to build the Westfield Nursery and Garden Shop. They bought the business from
Nancy's mother in 1981. For many years Charles ran the ice skating rink in Westfield, and Nancy
gave skating lessons to several generations of youth. When they retired in 1991, the Nursery
was sold to Scott and Laurie Robbins.
Nancy was dedicated to her community. She taught Sunday School at the Westfield's First
United Methodist Church and served in many positions in the church. Nancy was on the Board
and then served as a director of the Westfield YWCA, served on the Union Relief, was on the
Board of Directors for the Westfield Memorial Hospital, and a member of the hospital
foundation, and was past President of the Chamber of Commerce. She belonged to the DAR,
Mayflower Society, Patterson Library Society, and Chautauqua County Historical Society.
Nancy was preceded in death by her parents, Roy and Francis, her husband, Charles Albert Hanks, her brother-in-law Donald Gilmore, and her
brother and sister - law Hayden and Emma Hanks. She is survived by her son Christopher
Charles Hanks and his wife Nancy Joan Potts Hanks, sister Beverly Bentley Gilmore, nephews,
Stephen, Dennis Hanks and Mark Gilmore, and nieces Sherry Beacham, Jean Hanks and Sue Singleton and their families.
A graveside service will be held on Saturday April, 23 2022 at 2 pm. In the Westfield cemetery.
A celebration of life will be held at the First United Methodist Church imeditaly following.
Donations to the First United Methodist Church or the Chautauqua County
Historical Society.
Arrangements have been entrusted to the Mason Funeral Home, 37 Clinton St. Westfield, NY.
Please share condolences at www.masonfuneral.com.