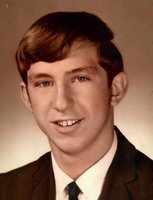 Gary L. Trippy
WESTFIELD - Gary L. Trippy, age 67, of Washington St., Westfield, died Thursday, March 15, 2018 at home following an extended illness.
Gary was born on February 25, 1951 in Westfield, NY, a son of the late Cosmo and Lillian (Lewis) Trippy.
A Westfield resident all his life, Gary had worked for over years at Mogan David Wine Corporation when he retired in 2017. He enjoyed Rock and Roll Music and was an avid fan of the NY Yankees. He loved his family, especially his grandchildren and enjoyed living life. He greatly enjoyed cooking.
He is survived by his wife: Karen (Uhlman) Trippy, whom he married on July 20, 1974 in Westfield and by his two daughters: Amanda (Ricky) Trippy and Christina Trippy of all of Westfield. Gary was the proud grandfather of, Skyler, Khloe, Mitchell and Keenan.
He is further survived by his brother Terry Trippy of Westfield and by his sister Janice Majkowski also of Westfield and Janice's children: Robert (Cyndi) Houser of Indianapolis, Brian (Nora) Houser of Cache, OK , Craig (Judy) Houser of Nashville, TN and Cindy Jackson of Westfield.
In addition to his parents, Gary was preceded in death by his sister, Barbara Jackson.
Friends may call on Saturday, March 24, 2018 at the Lighthouse Christian Fellowship, 20 Washington Street, Westfield, NY from 12 Noon until the time of Services there at 2 PM with Rev. David Herr officiating. Burial will be private.
Flowers are gratefully declined and Memorials in Gary's Name are suggested to The Children's Love Fund, PO BOX 2075, Jamestown, NY, 14702.
Funeral arrangements have been entrusted to the MASON Funeral Home, 37 Clinton St., Westfield, NY 14787. Log on to www.masonfuneral.com to send the Trippy family a message of sympathy, to light a Memorial Candle or for further information.