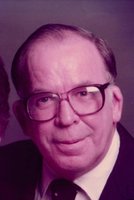 Daniel David Hess
Daniel David Hess
1930 - 2018
It is finished here on earth, this 11th day of March, 2018, the life of Daniel David Hess. "So goodbye everyone; do one little thing, something everyday until we meet again. Goodbye for now."
Daniel is survived by the love of his life, Gladys (Herron) Hess, his wife of 48 years, whom he married on December 27, 1969. They were usually seen together, everywhere. He is further survived by his two sisters, Linda Stumpf of Woodbridge, VA and Janice Paulus of Ashville, NY as well as his brother Ronald Hess of Barcelona, NY. Many nieces and nephews also survive.
He was preceded in death by his parents, Herbert and Mae (Rothwell) Hess in 1995 and 1989 respectively, and by his brother Robert Hess in 2008.
Born in Mayville, NY on June 26, 1930, Daniel entered into rest on March 11, 2018 at St. Vincent Hospital in Erie, PA.
He was a 1949 graduate of Westfield Academy and Central School and had worked in construction, as well as at the Moose Lodge and for the US Postal service as a substitute Rural Mail Carrier. He had been a longtime employee of Renold Inc. where he retired from in 1995. Daniel enjoyed 23 years of active retirement.
He and his wife Gladys often traveled with the recreation department on bus trips. He especially enjoyed riding in the car on their daily trips out and about the area. He traveled across Canada to Prince Edward Island, traveled the western and southern USA and enjoyed a Caribbean Island cruise.
He proudly served his country with the US Air force from 1951-1955; both in the Far East, (primarily Okinawa, the Philippines) and Stateside in Columbus, OH.
Daniel was a member and past Master of the former Summit Lodge #219 F&AM. He served his Lodge faithfully as Master many times until the Lodge dissolved. He was instrumental in coordinating the Lodge's famous Election Night Pancake Suppers. Daniel was recognized for 60 years as a Master Mason, having been raised to the Sublime degree on October 25, 1954. His dedication to Masonry went far beyond Summit Lodge. Daniel was also the District Deputy Grand Master of the Chautauqua District in 1987 and had also been the Patron of Columbine Crown Chapter #128 OES in 1982 and 1983. Daniel had also been the District Grand Lecturer, Chautauqua District OES, State of NY. He was currently a member of Olive Lodge #575 F & AM and the Acacia Chapter #96 OES both of Sherman, NY, the Jamestown Consistory where he attained his 32 degree in Masonry in 1988 as well as the Valley of Jamestown Scottish Rite.
Daniel was also a member of the John W. Rogers Post 327 American Legion of Westfield, The Lakewood Rod and Gun Club, and a Life member of the LOOM #118 of Westfield.
No calling hours will be observed. All services will be private. Memorials may be made to the Fire Department of Westfield Memorial Fund, 23 Elm St., or to the Patterson Library, 40 So. Portage St., or to the Westfield Memorial Hospital Foundation, 189 East Main St., all in Westfield, NY 14787 or to the Alzheimer's Assoc. of WNY, 2805 Werhle Drive Suite #6, Williamsville, NY 14221.
Funeral arrangements have been entrusted to the MASON Funeral Home, 37 Clinton St., Westfield, NY 14787. Log on to www.masonfuneral.com to send the Hess family a message of sympathy, to light a Memorial Candle or for further information.