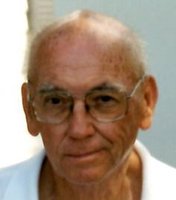 Harry F. Ward
WESTFIELD-Harry F. Ward, 92 of Mayville, NY, formerly of Westfield, NY, died at his home Tuesday, March 6, 2018 with family at his side.
Harry was born on January 5, 1926 in Fredonia, NY, a son of the late George Albert and Emily (Huyck) Ward.
Harry graduated from Westfield Academy in 1944. He served in the US Army from 1944 until 1946. Following his service in the Army where he was stationed in Fort Dix, NJ, Harry returned home and began his 71 year career as a Machinist, Engineer & Tool and Die Maker. Harry apprenticed at GE in Erie, PA and his career included positions at Nickle Plate Railroad, Kerner Tool & Die, Ajax, Marlin Rockwell/TRW, Falconer Metal Specialties, Lexington Metal and 3 successful businesses of his own; W&B Precision Products & Lake Erie Tool & Die, both of Westfield and Veridatum Inc., of Mayville, NY.
He loved new technology as well as woodworking. He enjoyed pushing the norm in both areas and was always an early adopter of new ways and new technologies in those areas he loved. This inventiveness led to the successful granting of several patents. He never thought that the product or method that was most used was necessarily the best, and tested new ideas - every day.
Harry grew up in the Westfield Hotel which his parents owned. As a young boy of the depression era, he carried baggage from the train depot on English Street to the hotel. He washed dishes in the hotel where he learned to cook.
Harry had an intense love of music and played numerous instruments. He played in the high school band. Later played in the Lake Erie Banjojammers and the Deutchmeister band for nearly 50 years, where he was one of the founding members.
Harry built several boats, rebuilt and repaired numerous others and had a Captain's license. He loved to fish, boat and sail and enjoyed his home town Barcelona Harbor where he served as a member of the Harbor Commission for several years. He was the key to bringing the Sea Lion back to Western NY's Barcelona Harbor.
His community service included 3 terms as Supervisor for the Town of Westfield, various positions within the Kiwanis Organization, The Sea Lion Commission, and positions within the local youth sports programs.
He was involved in and truly enjoyed local baseball where he served as Little League President for 10 years and coached Babe Ruth baseball for many years. In his later years he was an avid fan of the Atlanta Braves.
Harry and the love of his life, Betty, married for 73 years, raised 9 children. He was a loving father and husband who put his family first. Together they provided their children with the many skills needed for life. He loved his many grandchildren and nearly two dozen great grandchildren and his latest, and first; great, great grandchild.
He will be greatly missed by his many friends, family and the communities to which he served so dutifully.
In addition to his parents, George and Emily Ward, Harry was preceded in death by his son Michael Ward, his granddaughter Kristie Ward, daughter in-law Deborah Christensen Ward and his infant children James and Roberta Ward.
Harry leaves behind wife, Betty Kilbury Ward, his children Linda Gressner, George Ward, Mary Ward, David (Frances) Ward, Julie (Stephen) Holland, Harry (Sandra) Ward, Jeaneanne (Jon) Colwell, Stephen Ward & brother in-law/"adopted son" Robert Kilbury. In addition he leaves behind many grandchildren, great grandchildren and a great, great grandchild.
Viewing to be held at the MASON Funeral Home, 37 Clinton St., Westfield, NY (716-326-2811) on Sunday, March 11, 2018 from 2:00 – 4:00 PM
Funeral Services will be held at the Dewittville Christian Missionary Alliance Church, 5821 Meadows Rd., Dewittville, NY on Monday, March 12 at 11:00 AM, with a fellowship meal to be held at the Dewittville Firehall, immediately following.
Burial services for family and close friends to be held at 2:30 PM at the Westfield Union Cemetery on East Main Rd., Westfield, NY.
Memorial contributions can be made in Harry's honor to Chautauqua Hospice & Palliative Care, 20 West Fairmont Ave., Lakewood, NY 14750 or to the Westfield Memorial Hospital Foundation, 189 East Main St., Westfield, NY 14787. Online condolences may be made at www.masonfuneral.com.