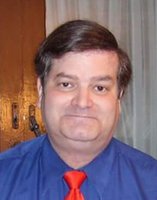 Kevin G. Olofsson
WESTFIELD - Kevin G. Olofsson, age 55, of Westfield, died unexpectedly, Saturday, February 10, 2018 at Westfield Memorial Hospital.
Kevin was born in December 31, 1962 in Westfield, NY, the son of the late Robert William and Peggy Lou (Schrader) Olofsson.
A1981 Graduate of Westfield Academy and Central School, Kevin was a lifelong resident of Westfield. He excelled with computers and anything that included electronics. He had been employed by AlTech Specialty Steel for many years. Kevin had a love all animals especially his cats. He was a loving caregiver to his late mother and to his sister Carole.
Kevin is survived by his sister, Carole A. Olofsson , with whom he made his home, and by several cousins.
No visitation will be observed. A Memorial Service will be announced at a later date. Private burial was in Westfield Cemetery.
All arrangements have been entrusted to the MASON Funeral Home, 37 Clinton St., Westfield, NY 14787. Log on to www.masonfuneral.com to send a message of sympathy, to light a Memorial Candle or for further information.