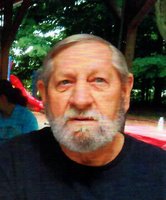 Kenneth William Stoddard
Kenneth William Stoddard, age 71, of West Central Ave., Westfield, formerly of South Ripley and Ripley, died Saturday, February 17, 2018 at home surrounded by family following an extended illness.
Ken was born on September 22, 1946 in Erie, PA, a son of the late Lynn and Virginia (Beatty) Stoddard.
A 1965 graduate of Sherman High School, Ken had owned and operated a Grape Farm in Ripley for several years. He retired from EE Austin and Son Construction in Erie, PA after 25 years as a Ready Mix Concrete Truck Operator in 2008.
An area resident all of his life, Ken enjoyed the outdoors and was an avid hunter and fisherman. He had been a member of the LOOM #118 of Westfield and enjoyed visiting with his friends.
He is survived by his wife: Donna K. (Miller) Stoddard, whom he married on April 29, 1967 in Ripley and by his one daughter, Darlene Stoddard of Westfield, NY and his one son, Kevin (Magdalin) Stoddard of Jamesville, NY. Ken was the proud grandfather of, Zane Stoddard of Phoenix, AZ, Chance Stoddard of Westfield, Ann (Seth) Nichols of Virginia and Christopher Pino of Jamesville, NY. He is further survived by his one sister: Nora Burnham of Harborcreek, PA.
In addition to his parents, Ken was preceded in death by his two sisters, Gladys Bennick, and Sarah Erickson as well as by his four brothers, Arthur, Paul, Thomas and his infant brother, Charles.
No prior visitation will be observed. Friends are invited to attend a Memorial Service to be held on Saturday, February 24, 2018 at 2:00 PM at the South Ripley United Methodist Church, 10008 NE Sherman Rd, So. Ripley, NY, with Judith Stoddard officiating. Burial will be private.
Memorials may be made to Hospice of Chautauqua County, 20 West Fairmont Avenue, Lakewood, NY 14750 or to the American Heart Assoc., 20 Northpoint, Suite 130, Amherst, NY 14228 or to The Northeast Kidney Foundation, 266 Elmwood Avenue, Buffalo, NY 14222.
Funeral arrangements have been entrusted to the MASON Funeral Home, 37 Clinton St., Westfield, NY. Log on to www.masonfuneral.com to send the Stoddard Family a message of sympathy, to light a Memorial Candle or for further information.