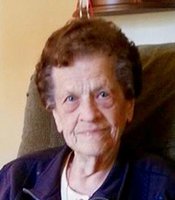 Ethel J. Scarpine
WESTFIELD - Ethel J. (Peck) Scarpine, age 98, of Spring St., Westfield, died Monday, February 19, 2018 at Westfield Memorial Hospital following an extended illness.
Ethel was born on December 19, 1919 in Sherman, NY, a daughter of the late George and Jennie (Wassink) Peck.
Ethel attended Sherman Schools and had been a Westfield resident most all her adult life.
On June 20, 1941, Ethel married the love of her life Robert Scarpine. Mr. Scarpine entered the US Army the following May and fought in WWII until his discharge in 1945. While Bob was away, Ethel was employed by a furniture factory in Brocton and at the former Olympia Restaurant in Westfield. She also enjoyed working in the vineyards of local grape farmers especially the Portmans and the Leones; a labor she was very proud of.
Mostly, Ethel was a dedicated home maker who enjoyed raising her boys and taking care of her home. She was a loving wife and mother. She was a member of the First Presbyterian Church and Society of Westfield, where she was active in many Church activities. Ethel had been on the Board of Deacons and had managed the Church's kitchen activities for many years. She had also been a member of the Home Bureau and enjoyed gardening, knitting and all sorts of crafts. She was an accomplished Doll maker. Ethel was extremely supportive of family, especially her late husband Robert, as he helped to organize, and played with, the former Deutschmeister Band for many years.
Survivors include her two sons: Charles R. (Lynn) Scarpine of Kenmore, NY and James (Diane) Scarpine of Westfield, NY. She is further survived by her seven grandchildren, Nicole Corbett, of Westfield, Brittany Edwards of Westfield, Jill Scarpine of Dewittville, NY, Jamie Scarpine of Mayville, NY, Benjamin Scarpine of Buffalo, NY, Lacey Stang of Eggertsville, NY, Samuel Scarpine of Nashville, TN and Foster Grandson, Erick Scott of Ilion, NY. 9 Great Grandchildren also survive.
She was preceded in death by her husband of 61 years, Robert D. Scarpine, and by her two sisters, Esther Varrassa and Elizabeth Nolan and by her two brothers, Gerald and Eugene Peck. .
Friends may call on Saturday, February 24, 2018 at the MASON Funeral Home, 37 Clinton St., Westfield, NY from 11 AM until services there at 1:00 PM with Pastor Lynn Scarpine, officiating. Burial in Union Cemetery will be private.
Memorials may be made to the First Presbyterian Church and Society of Westfield, 49 So. Portage St., or to the Westfield Memorial Hospital Foundation, 189 East Main St., both in Westfield, NY 14787.
Log on to www.masonfuneral.com to send the Scarpine family a message of sympathy,
to light a Memorial Candle or for further information.