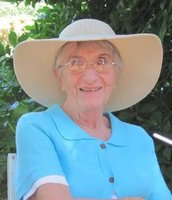 Delores C. Polisoto
Delores C. Polisoto ("Del"), age 89, formerly of Fredonia, Westfield and St. Columban's on the Lake died Thursday, February 8, 2018.
She was born on September 16, 1928 in Bronx County, NY, the daughter of the late Joseph and Anna (Festa) Patricelli. She married Charles A. Polisoto in New York City on January 16, 1949. They moved to Brocton and then to Fredonia, where they raised their five children. She was happily married for 61 years until her husband's death on October 15, 2010.
Del was an avid reader, had a special talent for sewing and knitting and made wonderful pies. She grew and sold mums for many years. She kept fit by walking well into her seventies and could often be spotted on Route 20 on her daily energetic stroll.
She was a mother, daughter, sister, wife, grandmother, great-grandmother, friend, and neighbor, filling all of these roles beautifully and touching the lives of many, many people.
Del is survived by her three daughters: Barbara Morse of Ithaca, NY, Brenda D'Angelo of ??Ithaca, NY, and Valerie Burn of Golden, CO, and by her two sons: Steven Polisoto of Lancaster, PA and Joseph Polisoto of Fredonia, NY. She is further survived by her sister Nancy Jensen of Upper Gwynedd, PA., ten grandchildren, seven great-grandchildren, and several nieces and nephews.
In addition to her parents and husband, Del was preceded in death by her grandson Nathan Polisoto, her sister Jeanne Gaudia, and her brother, Michael Patricelli.
A Celebration of Life will be held at St. Columban's on the Lake, 2546 Lake Rd, Silver Creek, NY, 14136 on February 24, 2018 at 1 p.m. Reunion and refreshments will follow.
Memorial Contributions may be made to The Nathan Polisoto Memorial Scholarship, (Fredonia Schools), c/o the NCCF, 212 Lake Shore Dr W, Dunkirk, NY 14048.
Funeral arrangements have been entrusted to The MASON Funeral Home, 37 Clinton St., Westfield, NY 14787. Log on to www.masonfuneral.com to send the Polisoto family a message of sympathy, to light a Memorial Candle, or for further information.