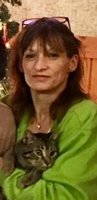 Angela "Green" Coccarelli
Angela (Green) Coccarelli, age 41, of Center Road, Fredonia, NY, died Saturday, January 13, 2018 at UPMC-Hamot Medical Center of Erie, PA following a recent illness.
Angela was born on January 31, 1976 in Jamestown, NY, a daughter of the late Emra "Emery" Green and Sena (Elder) Green Houser of South Dayton, NY.
She attended Ripley Schools and had lived in Clarion PA, where she finished her high school Diploma. She had a strong love for animals, was an excellent amateur cosmetologist, an accomplished cook, and was a proud homemaker in every sense of the word. She could fix almost anything, was handy at construction and had the gift of being an artist. There was never a day that went by that she didn't ask about, or talk about her beloved children; they were everything to her. They made her proud.
In addition to her mother Sena (Elder) Houser and her husband Ronald of South Dayton, Angela is survived by her two sons, Valentino R. Coccarelli, III and Anthony Joseph Coccarelli both of Titusville, PA, as well as her loving companion, Michael J. Restivo, with whom she made her home. Angela is further survived by her six siblings, Melanie Green of Silver Creek, NY, Stephanie Green of Titusville, PA, Matthew Green of South Dayton, NY, Amanda Deatherage of Ripley, NY, Emily Green of Mayville, NY, Douglas Green of Nickelville PA, and her feline companion "Chieftain".
Angela was preceded in death by her father Emra "Emery" Green and by her grandparents.
Friends may call on Wednesday, January 17, 2018 from 12 noon until 3 PM at the MASON Funeral Home, 37 Clinton Street, Westfield, NY, and are invited to attend the Funeral Services there at 3 PM with Rev. Daniel Fiebelkorn officiating.
Memorials may be made to Angela's family. Please mail contributions to Michael Restivo, PO BOX 95, Silver Creek, NY 14136.
Log on to www.masonfuneral.com to send Angela's family a message of sympathy, to light a Memorial Candle or for further information.