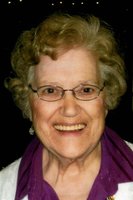 Grace O. Houser
WESTFIELD-Grace O. Houser, age 89, of Westfield, died Saturday, December 30, 2017 at Absolut Care of Westfield following an extended illness.
Grace was born on May 2, 1928 in Malta, NY a daughter of the late Leo Oliver and Gladys Grace (Crandall) Hatch.
A resident of Westfield since 1959, Grace moved from Corry, PA to begin her adult life where she worked at the former Barmon Brothers Dress factory as a Material Sorter and then at Better Baked Foods for 15 years. She had also worked for many years at the Johnson Adult Home on Rt. 20 in the town of Pomfret as a Personal Care Attendant. She enjoyed Tatting, which is a lost art form of Embroidery, reading western novels, bingo and Jigsaw puzzles and flower gardening. Mostly she loved and enjoyed her family.
She is survived by her six daughters: Sally (Charles) A. Houser of Westfield, NY, Linda (Donald) Harshell of Latrobe, Norma (Larry) Jaggi of Warren, PA, Donna Murvine of Dunkirk, NY, Dianna Cochran of Columbus, OH and Judy (Donald) Kaminski of Dunkirk. She is further survived by her two sisters: Charlotte Sampson of Fennville, MI and Helen Mangini of Gansevoort, NY. Several Grandchildren and many Great Grandchildren also survive.
She was preceded in death by her Husband, William P. "Red" Houser, her son, Edward F. Nelson, III, her two sisters, Lois Stevens and Irene Rose Hatch as well as by her brother, Ralph Lee Hatch.
Friends may call on Wednesday, January 3, 2018 from 11 am until the time of the Funeral Service at 12 noon at The Hope Rising Church, 9 Highland Avenue, Brocton, NY with Rev. Brett Davis officiating. Private burial will be in Union Cemetery, Westfield.
Memorials may be made to the Fire Department of Westfield Memorial Fund, 23 Elm Street, Westfield, NY 14787 or to Hospice of Chautauqua County, 4840 West Lake Road, Mayville, NY 14757.
Funeral arrangements have been entrusted to the MASON Funeral Home, 37 Clinton St., Westfield, NY 14787. Log on to www.masonfuneral.com to send the Houser family a message of sympathy, to light a Memorial Candle or for further information.