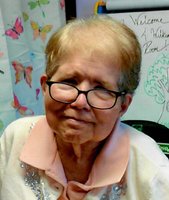 Judith Ann Wilkins
Judith Ann Wilkins, age 81, of Harris Avenue, Jamestown, formerly of Westfield, died Wednesday, December 27, 2017 at home.
Miss Wilkins was born on October 20, 1936 in Westfield, NY, a daughter of the late Howard G. and Beatrice (Joslyn) Wilkins.
A longtime resident of the Harris Avenue Residential Facility in Jamestown, Judy participated in the Resource Center's Senior Adult Day Habilitation Program for many years. She enjoyed sewing, singing, baking, cooking and any kind of Crafts. She loved music and enjoyed watching and listening to the Lawrence Welk Show. She also enjoyed many other TV shows and movies.
A few of her favorites were Gone with the Wind, Shirley Temple movies and anything Disney.
Judy was a wonderful lady who possessed a great sense of humor, a contagious giggle and a wonderful smile. She loved her family as well as her extended family at the Harris Avenue facility.
She is survived by her two sisters, Joan L. Allen of Westfield, NY and Karen (Fred) Perra of Syracuse, NY, and by her two brothers, Tedd (Laura) Wilkins and Larry (Joyce) Wilkens all of Westfield, NY.
A private Memorial Service will be held at a later date. Burial will be in Westfield Cemetery.
Memorials may be made to Hospice of Chautauqua County, 20 West Fairmont Avenue, Lakewood, NY 14750.
Funeral arrangements have been entrusted to The MASON Funeral Home, 37 Clinton St., Westfield, NY. Log on to www.masonfuneral.com to send Judy's family a message of sympathy, to light a Memorial Candle or for further information.