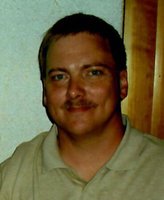 William R. "Bill" Carlson
WESTFIELD - William R. "Bill" Carlson, age 46, of Cottage Street, Westfield, died Monday, December 25, 2017 unexpectedly at home.
Bill was born July 16, 1971 in Westfield, NY the son of Susan Rees of Brocton, NY.
Mr. Carlson had been employed by Ridg-U-Rak in North East, Pa. as a welder and most recently he had been employed by Renold, Inc. in Westfield, NY as a machinist / welder.
Bill was a fan of all types of racing and enjoyed spending time with his friends but most importantly he loved spending time with his family.
Bill was a member of the Westfield Fish and Game club and enjoyed spending time outdoors.
Bill is survived by his loving companion; Kelly Briggs , and his daughter Jade (John Di Sano) Anderson of Westfield, NY; his mother Susan Rees of Brocton, NY and his sister, Tracie (Jeff) Gens of Jamestown, NY. He is further survived by his grandchildren, David Anderson and, Johnathan Di Sano, Jr., as well as his cherished dogs Zena and Lucy. Several nieces and nephews also survive.
He was preceded in death by his Maternal and Paternal Grandparents and a Brother In Law, Howard Briggs and Aunt, Althea Thiema.
Calling hours will be held at the MASON Funeral Home 37 Clinton Street, Westfield, NY on Friday, December 29th from 4 to 7 pm. Burial will be private.
Memorial contributions may be made to the Westfield Fish and Game Club, Ogden Road, PO Box 481, Westfield, NY 14787 or to the Northern Chautauqua Canine Rescue, 7540 North Gale St., Westfield, NY 14787.
To send Bill's family a message of sympathy please log on to www.masonfuneral.com