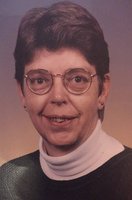 Susan F. Riddle
WESTFIELD, NY - Susan F. Riddle, age 67, of Westfield, NY, formerly of Ohio, died Tuesday, December 12, 2017 at home in Westfield following a long and brave battle with cancer.
Susan was born on January 24, 1950 in Bedford, OH, a daughter of the late Robert W. "Bim" and Dolores J. "Middy" (Middleton) Riddle.
A 1968 graduate of Cloverleaf High School in Lodi, Ohio, Susan was a 1972 graduate of Akron School of Nursing in Akron, OH with her degree as an LPN. She enlisted into the US Army where she proudly served her Country for over 7 years. Susan moved to Westfield in 2003 to be closer to her parents and family. She had been employed as an LPN at Heritage Green Skilled Nursing and Rehab Center for about 16 years. Susan was an avid reader, had knitted in her younger years and most recently liked to garden; both vegetables and flowers.
She is survived by one sister: Penny and her wife; Margaret Nereu of East Freetown, MA and one brother: Douglas and his wife; Anita Graham of Mission Viejo, CA, as well as by her close cousins, Jerry and Joannie Myers of Mayville, NY. Other cousins and nieces and nephews also survive. Susan is further survived by her loving canine companion, Mindy, as well as her feline loves, Rumtum and Tiger.
In addition to her parents, Susan was preceded in death by her two brothers, Paul Lawson, and Norman Riddle.
Friends may call on Monday, December 18, 2017 from 4 PM to 6 PM at the MASON Funeral Home, 37 Clinton St., Westfield, NY, and are invited to attend her Funeral Service there at 6 PM with the Rev. Jim Witherington officiating. Burial will be private.
Memorial Contributions are suggested to: Northern Chautauqua Canine Rescue, 7540 North Gale St., or to the Westfield Stray Cat Rescue, 61 Academy St., both in Westfield, NY 14787.
Log on to www.masonfuneral.com to send the Riddle family a message of sympathy, to light a Memorial Candle or for further information.