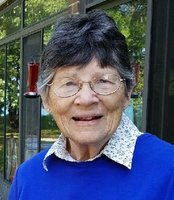 Mary Beth Nefoske
Mary Beth (Crane) Nefoske, age 86, of Edgewater Dr., Westfield, NY, formerly of Bradford, PA, slipped gently into the arms of Jesus on Tuesday afternoon, December 12, 2017 at the Warren Manor of Warren, PA.
Mary Beth was born on August 8, 1931 in Franklin, TX, a daughter of the late Charlie and Verna (Ferguson) Crane. She married Frank Nefoske on October 1, 1983 in Lansdale, PA. Mr. Nefoske preceded her in death February 2, 1987.
A Westfield resident since 1997, she moved here from Bradford, PA where she was raised and attended school. She was a 1950 graduate of Bradford High School and had been employed by Neptune Pump Co. of Lansdale, PA as an Administrative Secretary, as well as with several other area corporations prior to her retirement.
Beth had been active as a volunteer with the YWCA of Westfield and most recently had volunteered at the Westfield Community Kitchen and the McClurg Mansion Museum. She enjoyed reading, sewing and classical music.
She is survived by her sister, Madeline Rossi of NC, as well as by several nieces and nephews including four nieces, Sharon (Gary) Phillips of Warren, PA, Barbara Rossi and Becky (Keith) Wilson both of NC and Carol (William) Cannon of TN who maintained close family ties with Beth during her later years.
In addition to her parents and husband, Mary Beth was preceded in death by her daughter, Melissa (Swanson) Moretti, who passed away on July 8, 2011, as well as by her brothers, Cullen, Conway, Waldo James, Wade, Wallace, Ray and Leo Crane.
Memorial services will be announced at a later date. Burial will be in McKean Memorial Park, Bradford, PA.
Memorials may be made to Chautauqua County Historical Society, McClurg Mansion, 15 E. Main St. or to the Patterson Library, 40 So. Portage St. or to the Thrifty Kitty, 59 E. Main St., all in Westfield, NY 14787
Funeral arrangements have been entrusted to the MASON Funeral Home, 37 Clinton St., Westfield, NY 14787. Log on to www.masonfuneral.com to send Mary Beth's family a message of sympathy, to light a Memorial Candle or for further information.