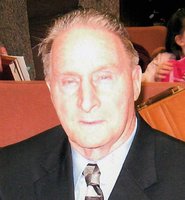 Louie Charles Hutchinson
WESTFIELD - Louie Charles Hutchinson, Jr., age 89, of Westfield, died Sunday, November 19, 2017 at Corry Manor Nursing Home of Corry, PA following an extended illness.
Louie was born on November 21, 1927 in Westfield, NY, a son of the late Louie C. and Thelma (Bates) Hutchinson, Sr. He married Daisy Brown on April 15, 1946 in Westfield; she preceded him in death on May 18, 2008.
Mr. Hutchinson was an Elder of the Kingdom Hall of Jehovah's Witnesses, and attended regularly at the Kingdom Hall in Westfield, NY. In his younger years, Louie had been a dairy farmer on Ogden road in Westfield and later resided and raised his family on Martin Wright Road. Louie had been employed by the Village of Westfield and retired from the Town of Westfield Highway Department after many years of service. He had also resided in St. Marys, PA, for about 10 years where he owned and operated his own Construction Business. He moved back to Westfield in 1983. Louie enjoyed the great outdoors and nature.
He is survived by three daughters: Annette (Roger) Kestler of Reynoldsville, PA, Glenda (Bill) Siple of Clearfield, PA and Jackiette (Don) Proctor of Wake Forest, NC, and his four sons: David (Stella) L. Hutchinson and Glen (Katherine) C. Hutchinson both of Westfield, NY, Rodney (Adrienne) Hutchinson of AZ and Marvin (Carrie) Hutchinson of Gladewater, TX. Many Grandchildren, Several Great Grandchildren and many nieces and nephews also survive.
He was predeceased by his 3 sisters, Elaire Ellis, Georgette Peterson and Junes Ossman.
A memorial service will be held 2:00 pm on Saturday, November 25, 2017 at the Kingdom Hall Of Jehovah's Witnesses, 5492 NY Rt. 241, Conewango Valley, NY, with Elder David Hutchinson, Jr., officiating. Private Burial will be in Westfield Cemetery.
Memorials may be made to The Kingdom Hall - Jehovah's Witness, 7605 Plank Road, Westfield, NY 14787.
Funeral arrangements have been entrusted to the MASON Funeral Home, 37 Clinton St., Westfield, NY 14787. Log on to www.masonfuneral.com to send the Hutchinson family a message of sympathy, to light a Memorial Candle or for further information.