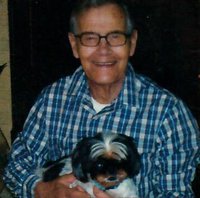 Thomas W. Dodd
WESTFIELD - Thomas W. Dodd, age 89, of Main St. Barcelona, died Wednesday, November 15, 2017 at home following an extended illness.
Tom was born on August 3, 1928 in Pittsburgh, PA, a son of the late Thomas W. Dodd and Clara (Simmons) Dodd.
His family moved from Pittsburgh Pa. to the north of England where Tom was raised. At 17 he moved to the US and joined the Merchant Marines and visited 37 countries. Tom honorably served in the US Army during the Korean War from 1948 until 1951. He was a graduate of Alfred Technical College with an Associate degree in Chemistry and continued his education by attending SUNY at Fredonia while simultaneous working at Ajax Flexible Couplings of Westfield. He had been employed by Pittsburgh Coke and Chemical Company, Southern Coatings in South Carolina, where he was the Head of Industrial Coatings, Warlick Paint Company in North Carolina where he was Vice President for 18 years, Paint Products of Greensboro, NC where he was Lead Chemist and he retired from Jamestown Finishes as Laboratory Director. He continued to do consulting until he was 83 in chemicals and chemical sales. Tom was an avid swimmer, enjoyed playing golf, reading and walking and staying active. He penned a book, "When the Bombs Fell"; a narrative of his family's time in England during WW II. He was a devoted husband and father and he enjoyed 63 years together with his lovely wife Suzanne.
Thomas W. Dodd is survived by his wife: Suzanne L. (Grant) Dodd whom he married on July 31, 1954, his one daughter: Jody L. Dodd-Jaynes of Westfield, NY and his two sons: Thomas W. Dodd of Atlanta, GA and Christopher A. Dodd of Statesville, NC. Tom is further survived by his 6 grandchildren, Tommy, Katie, Bobby, Jenny, Brianna and Whitney as well as his 1 great granddaughter, Lillianna. Also surviving is his brother, Alfred G. Dodd of Linesville, PA. Many nieces and nephews also survive.
Besides his parents, Tom was preceded in death by his sister, Patricia, and by his two brothers Noel and Robert.
A Memorial Service will be announced at a later date by the MASON Funeral Home, 37 Clinton Street, Westfield, NY.
In lieu of flowers, memorials may be made to the Alzheimer's Assoc. of WNY, 2805 Werhle Drive Suite #6, Williamsville, NY 14221or to Hospice Of Chautauqua County, 20 West Fairmont Avenue, Lakewood, NY 14750.
Log on to www.masonfuneral.com to send Tom's family a message of sympathy, to light a Memorial Candle or for further information.