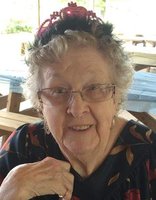 Betty Jo Mele
WESTFIELD - Betty J. (Monk) Mele, age 82, of Pecor St., Portland, formerly of Westfield, died Wednesday, November 1, 2017 at UPMC-Hamot Medical Center of Erie, PA following an extended illness.
Betty was born on June 10, 1935 in Riverview, WV, a daughter of the late Albert and Letha Lee (Chapman) Monk.
She attended schools in Westfield and Bradford, PA and married Julius A. Mele on January 16, 1954. Together, they enjoyed 41 years of marriage until Mr. Mele died on August 9, 1995.
Betty had been the Manager of the Magnolia Motel and Chautauqua Lake Storage for many years and had also worked for Westfield Academy and Central Schools for over 14 years in the Custodial Department. She had been a member of the former St. James Major Roman Catholic Church of Westfield and was a Life Member of the Wm. P. Jackway VFW Post 6764 Auxiliary, also of Westfield. She enjoyed cooking, knitting, crocheting and playing Canasta.
She is survived by two daughters: Phyllis Parks of Portland, NY and Jeannette (Tom) Brenon of Tonawanda, NY, two sons: Robert (Lynda) Mele of North Tonawanda, NY and Larry Mele of Brocton, NY, and her daughter in law, Barbara Mele, of Westfield.
She is further survived by her sister, Elizabeth (Kevin) Shampoe of Brownville, NY, as well as by her beloved 10 Grandchildren, 17 Great Grandchildren and 2 Great Great Grandchildren.
Besides her parents and Husband, she was preceded in death by her son, Anthony "Tony" Mele, her Infant children, Betty Ann & James F. Mele, her 5 sisters, Nellie Jean Monk, Barbara Gilger, Mary Frances Stepp, Edith Grimes and Alice Monk, as well as her 2 brothers, Albert and Ray Monk.
Friends may call on Saturday, November 11, 2017 at the MASON Funeral Home, 37 Clinton Street, Westfield, NY from 12 noon until the time of Funeral Services there at 2 PM with Rev. Albert Clody officiating. Burial will be in Westfield Cemetery.
Memorials may be made to the Westfield Memorial Hospital Foundation, 189 East Main Street, Westfield, NY 14787.
Log on to www.masonfuneral.com to send the Mele family a message of sympathy, to light a Memorial Candle or for further information.