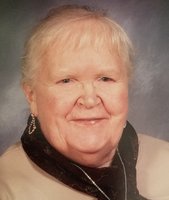 Glenervia "Glenie" Graham
WESTFIELD - Glenervia "Glenie" Graham, age 85, of Westfield, died Sunday, September 24, 2017 at Absolut Care of Westfield.
Glenie was born on October 13, 1931 in Westfield, NY, the daughter of the late Henry A. and Violet (Sterns) Graham.
She was employed by Anderson Cleaners in Westfield for many years. Glenie enjoyed collecting stuffed animals and especially loved her stuffed bear collection.
She is survived by several nieces and nephews.
Besides her parents, she was preceded in death by her son, Robin Graham, her twin brother, Milton Graham, her brother, Harry "Jack" Graham, and her sister, Ione Taggert.
A Memorial Service will be held at the First Baptist Church of Westfield, 19 Union St., Westfield, NY, on Monday, October 9, 2017 at 2:00 PM with Rev. Matthew Wolfe officiating. Private burial will be in Westfield Cemetery. Memorial Contributions may be made to the Funeral Home.
Funeral arrangements have been entrusted to the MASON Funeral Home 37 Clinton St., Westfield, NY 14787. Log on to www.masonfuneral.com to send Glenie's family a message of sympathy, to light a Memorial Candle or for further information.