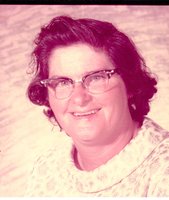 Ethel R. Hutt
WESTFIELD - Ethel R. (Rexford) Hutt, age 89, of Westfield, died Monday, August 14, 2017 at Absolut Care of Westfield.
Ethel was born on September 10, 1927 in Westfield, NY, the daughter of the late Ernest and Mabel (Woodin) Rexford, Sr.
A Westfield area resident all her life, Ethel had resided on the Westfield Sherman Road for many years and was a representative for Watkins Products. She had also been a care giver for several area families and had also worked for Chautauqua Opportunities. She volunteered many hours at the former Westfield Heath Care Center, the former Waters of Westfield and the current Absolut Care of Westfield. She also volunteered at the Westfield YWCA serving meals to the senior citizens. Ethel was a Lifelong member of the First United Methodist Church of Westfield where she also volunteered countless hours to Church activities. However, her main love was for her family, her grandchildren and great grandchildren.
She is survived by her one daughter, Ruth A. Stratton of Westfield, NY and her two sons, Raymond Flagg of Jamestown, NY and Stephan "Steve" Flagg of Jamestown, NY. She is also survived by her four grandchildren, Melissa A. McDonald of GA, Christina (Jerry) Ruch of Westfield, Dianna L. McDonald of KS, and Danielle Flagg of South Dayton, NY. 10 Great Grandchildren and 3 Great Great Grandchildren also survive.
She was preceded in death by her 1st Husband, Winfred Flagg, who died in 1972, her 2nd Husband, William Hutt, who died in 2001 and by her 4 brothers, George, Ray, Russell and Ernest Rexford.
Friends may call on Friday evening, August 18, 2017 from 6-8 PM at the MASON Funeral Home, 37 Clinton Street, Westfield, NY and are invited to attend her Funeral Services there on Saturday morning, August 19, 2017 at 11 AM with Rev. Molly Golando officiating. Burial will be in Westfield Cemetery.
Memorials may be made to The First United Methodist Church of Westfield, 101 East Main Street, Westfield, NY 14787.
Log on to www.masonfuneral.com to send Ethel's family a message of sympathy, to light a Memorial Candle or for further information.