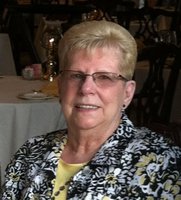 Jean Stebell
WESTFIELD - Jean (McCall) Stebell, age 78, of Edgewater Dr., Westfield, formerly of Erie, PA, died Sunday morning, July 23, 2017 at home with her family by her side, following a brief illness.
Jean was born on March 10, 1939 in Erie, PA, the daughter of the late Raymond and Mildred (Stablein) McCall.
A Westfield area resident for many years, Jean was raised in Erie and was a graduate of East High School. She married the love of her life, Edward Thomas Stebell on September 10, 1971 and together they owned and operated several businesses in and around the Erie area that included ARCO Service Stations located on Buffalo Rd., Peach St., W. 38th St. and Sterettania Rd. She and Ed were also partners in the Cable Hollow Golf Course in Ackley, PA for many years, and also owned and operated a Dairy Farm in Dewittville, NY and a Grape Farm in Westfield NY. Jean was a faithful communicant of St. Dominic Roman Catholic Parish in Westfield, where she volunteered as a greeter, helped in the Parish offices, and was a longtime member of the Parish's Altar and Rosary Society. She had also volunteered for the American Red Cross blood drives and was a member of the Westfield Women of the Moose. She and several of her wonderful friends would gather almost daily at "club 406D" for friendship, fellowship and refreshment; something that Jean greatly enjoyed. Jean was a devoted wife, mother and grandmother who loved to be with her family.
Survivors include her daughter, Stacy Stebell, her two grandchildren, Mackenzie L. Cady and Rylee A. Eggert all of Westfield, NY. She is further survived by her two sisters, Geraldine Anderson and Barbara Warnken both of Erie, PA, and her two brothers: Robert and Edward McCall also of Erie.
She was preceded in death by her Husband of 30 years, Edward T. Stebell, who died on June 26, 2002, her two sons, Daryl T. Stebell and Jason Michael Stebell, and by her 2 brothers Richard and Raymond McCall, as well as her sister Margaret Ralston.
Friends may call on Tuesday, July 25, 2017 from 2-4 & 7-9 PM at the MASON Funeral Home, 37 Clinton Street, Westfield, NY and are invited to attend a Mass of Christian Burial at 11:00 am on Wednesday, July 26, 2017 at St. Dominic RC Church, 15 Union Street, Westfield, NY with Msgr. Albert Clody officiating. Private burial will be in St. James Cemetery.
Flowers are welcomed. Memorials may be made to St. Dominic RC Church, 15 Union Street, Westfield, NY 14787.
Log on to www.masonfuneral.com to send Jean's family a message of sympathy, to light a Memorial Candle or for further information.