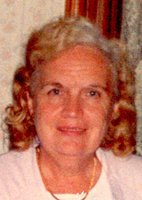 Joan V. Bowen
WESTFIELD - Joan V. (Meeder) Bowen, age 82, of North Gale St., Westfield, died Saturday, June 17, 2017 at Absolut Care of Westfield following a brief illness.
Joan was born on July 29, 1934 in Sherman, NY, the daughter of late Leon and Velma (Rater) Meeder.
A Westfield resident most all her life, Joan was a graduate of Sherman High School and moved to Westfield when she married the love of her life, Dale D. Bowen, Sr. on Sept. 26, 1952. She had been the accountant/Bookkeeper for the former H.G. Love Oil Co for 9 years and was the co-owner and bookkeeper for the Dale Bowen's General Repair business in Westfield for 12 years. Joan was a beloved wife, mother, bookkeeper, secretary, business owner, landlord, gardener, daughter of a farmer and the wife of a farmer and enjoyed photography. She was a generous and thoughtful grandmother who simply adored her grandchildren. She was everything to her family and her family was everything to her.
Survivors include her husband of 64 years, Dale D. Bowen, Sr., her three daughters: Rita (Chris) Jaynes, Patricia (Ed) Barger and Elaine (Chris) Knopp and her one son, Dale D. Bowen, Jr. all of Westfield. 8 Grandchildren and15 Great Grandchildren also survive.
She was preceded in death by her brother, Earl Meeder.
At Joan's request, all services will be private. Burial will be in Westfield Cemetery.
Flowers are gratefully declined. Memorials may be made to the First United Methodist Church of Westfield, 101 East Main Street, Westfield, NY 14787 or to the Fire Department of Westfield Memorial Fund, 23 Elm Street, Westfield, NY 14787.
Funeral arrangements have been entrusted to the MASON Funeral Home, 37 Clinton St., Westfield, NY. Log on to www.masonfuneral.com to send the Bowen family a message of sympathy, to light a Memorial Candle or for further information.