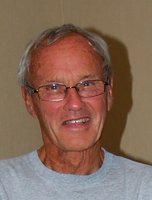 Lyle W. Raynor
WESTFIELD - Lyle W. Raynor, age 78, of Franklin St., Westfield, died Monday, May 22, 2017 at St. Vincent Hospital of Erie, PA following an extended illness.
Lyle was born on July 16, 1938 in Chautauqua, NY, the son of the late Robert and Emma (Johnson) Raynor.
A Westfield resident all his life, Lyle was a Veteran of the US Marine Corp serving from 1956 until his honorable discharge in 1958. He had been employed by several area Automobile Dealerships as an Automotive Technician and retired from Dodge City in 2009. Lyle enjoyed working on cars, tending to his garden, coaching Football, Little League Baseball and Hockey. He loved nature and loved being outside and would often be seen walking his beloved Canine companion, Buddy. Lyle was a member of the John W. Rogers American Legion Post 327, the Wm. P. Jackway Post 6764 VFW, the Loyal Order of Moose #118 and a former member of the Cascade Hose Company of the Fire Department of Westfield.
He is survived by his wife of 48 years, Marilyn (Gundlach) Raynor, whom he married on November 21, 1969, and by his two daughters: Laura (Robert) Neratko and Jodi (David) Wilson, both of Westfield, and two sons: Tim (Jill) Raynor of Ashville, NY and Cory (Dainika) Raynor of Westfield. Lyle was the proud grandfather of Steve, Jessi, Meg, Joe, Brian, Ashley, Kim, Aly, Kaylee, Gregory, Jonathan and great grandfather of Charlie, Cheryl, Daxon, Ellie and Nora. He is further survived by his two sisters: Ann (David) Cochran of Westfield, NY and Jane (Ron) Erskine of Fairhope, AL. Lyle also leaves behind Buddy, his Canine best friend.
He was preceded in death by his daughter, Cheryl Raynor.
At Lyle's request, no visitation will be observed and all services will be private.
Friends are encouraged to join with Lyle's family for a Celebration of Lyle's life on Friday afternoon, May 26, 2017 from 1-4 PM at the Wm. P. Jackway VFW, Pearl at Washington Sts., Westfield.
Flowers are gratefully declined and Memorial Contributions are suggested to
The Northern Chautauqua Canine Rescue, 7540 North Gale St., Westfield, NY 14787.
Funeral arrangements have been entrusted to the MASON Funeral Home, 37 Clinton St., Westfield, NY 14787. Log on to www.masonfuneral.com to send the Raynor family a message of sympathy, to light a Memorial Candle or for further information.