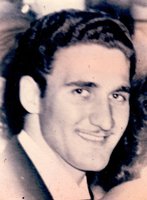 Dominic Samuel Rossotto
WESTFIELD - Dominic Samuel Rossotto, age 91, of East Main St., Westfield, died Monday, February 6, 2017 at home.
Dominic was born July 16, 1925 in Dunkirk, NY, the son of the late Frank and Nazarena (Ciminesi) Rossotto.
He married Nancy J. Condello on October 30, 1948 in Westfield.
Dominic moved to Westfield from Dunkirk in 1948 and has resided here ever since. Dominic had been employed for 38 years by Altec Specialty Steel Co. (Formerly Alleghany Ludlum Steel) in Dunkirk. Dom enjoyed gardening and growing his famous Garlic and Peppers which he provided to many friends. In his younger years, Dom was an accomplished baseball and softball player. He was an avid bowler who at one time had bowled a perfect 300 game. Dominic served his Country during WW II as a US Marine Corporal, participating in the invasions of Saipan, Iwo Jima and Okinawa. He was a member of the first ever outfit to use Torpedo Bombing from the B-25 aircraft, conducting air raids only at night, in blackout conditions.
Dominic was a member of St. Dominic Roman Catholic Church, a Life member of the John W. Rogers Post 327 American Legion, a Life Member of the Wm. P Jackway Post 6764 VFW, a Life Member of the DAV- Silver Creek Post and a Life Member of the Westfield Fish and Game Club. He was also a member of the Altec Retirees Assoc.
He is survived by his son, Frank P. Rossotto of Tampa, FL and by his daughter, Dolores Rossotto of North East, PA. Dominic also has four grandchildren, Ryan Rossotto of Orlando, FL, Brianna Carris-Rossotto of Charlotte, NC , Monica of Florida and Michelle of Oil City, PA. He is further survived by his Great grandchildren Brandon, Michael, Ashley, Levi and Dominick, his great great grandson Brantley and by his twin, Carmella Fasciana of Ft. Lauderdale, FL.
He was preceded in death by his Wife, Nancy J. (Condello) Rossotto who died on Sept. 4, 2009, his brothers, Sam, Frank, Jim, and Joe Rossotto, and his sister, Frances Rossotto.
Friends may call on Sunday, February 12, 2017 from 2-4 and 7-9 PM at the MASON Funeral Home, 37 Clinton St., Westfield and are invited to attend a Mass of Christian Burial on Monday, February 13, 2017 at 11 AM at St. Dominic Roman Catholic Church, 15 Union Street, Westfield, NY with Fr. Romeo Hontiveros officiating. Burial with Military Honors will be in St. James Cemetery.
Memorials may be made to Buffalo Niagara Honor Flight, PO Box 426, Clarence, NY 14031.
Log on to www.masonfuneral.com to send the Rossotto family a message of sympathy, to light a Memorial Candle or for further information.