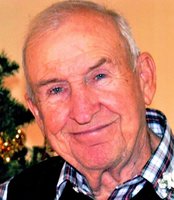 Donald E. Barger, Sr.
RIPLEY - Donald E. Barger, Sr., age 87, of Ripley, died Monday, January 23, 2017 at the VA Medical Center of Erie, PA following a brief illness.
Don was born on September 6, 1929 in Ripley, NY, the son of the late Earl E and Catherine (Hartson) Barger.
A graduate of Ripley high School in 1947, Don had worked on his father's farm before entering the US Navy during the Korean War in 1950. He returned from the War in 1954 and started working at Electric Materials Corp. in North East, PA, where he work for over 31 years; retiring in 1986. Also during this time, Don had purchased the family homestead and farm from his father in 1957 and started Grape farming with only 20 acres of grapes. Don was a hard working man who enjoyed playing golf, horseshoes and gardening. He and his wife, Pat, the love of his life, wintered in Florida for about 14 years in the Tampa area.
He was a member and former Trustee of the Ripley Presbyterian Church, a member of the Ripley American Legion, and the Loyal Order of Moose #118 of Westfield. Don had also served his community of Ripley as a Town Councilman for several years. He enjoyed all sorts of sports and in his youth played Baseball, Football and Basketball. In recent years as well as in years past; Don greatly enjoyed his morning breakfast visits with his many friends at Meeder's restaurant in Ripley.
He is survived by his three daughters: Terry (Kerry) Woody of Milwaukee, WI, Robin Ann Barger of Lancaster, CA, and Melissa (James) Flynn of Fairview, PA and his son: Donald E. "Ed" (Patti) Barger, Jr. of Westfield, NY. Don is the proud grandfather of; Ryan and Evan Woody, Hilliary Pattison, Laura Luke, Rachel McWhirter, Lilly Flynn Cales, Eli James Flynn and Trey M. Flynn. He is further survived by 10 wonderful great grandchildren.
He was preceded in death by his wife of 63 years, Patricia P. (Perkins) Barger, whom he married on Dec. 13, 1952, and who passed on March 27, 2016, and by his brother, Earl Barger, Jr., his three sisters, Edith Maggio, Dorothy Pelow and Elnora McGinley as well as by his infant grandson, Thomas Earl Barger, and his infant granddaughter, Leslie Jane Barger, and by his nephew, Earl Gordon Maggio.
Friends are invited to call at the First Presbyterian Church of Ripley on Thursday, January 26, from 11 AM until the time of services there at 1 PM with Rev. Phil Johnson officiating. Burial will be in Quincy Rural Cemetery.
Memorials may be made to First Presbyterian Church of Ripley, 20 West Main Street, Ripley, NY 14775.
Log on to www.masonfuneral.com to send the Barger family a message of sympathy or to light a Memorial Candle or for further information.