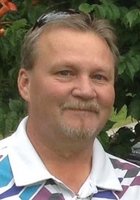 Terry R. Ames
WESTFIELD - Terry R. Ames, age 54, of Jamestown, died Saturday, January 7, 2017 at St. Vincent Health Center of Erie, PA.
Terry was born on June 7, 1962 in Westfield, NY the son of Robert C. and Alice (Ingham) Ames of Westfield.
Terry was a 1980 graduate of Westfield Academy and Central School where he was an outstanding athlete excelling in Basketball and Football. He attended Alfred State University and Jamestown Business College and had been employed as an outside Salesperson for Barmore-Sellstrom Inc.Tire Co. for many years. He enjoyed racing Motocross in his youth, was course champion at Woodcrest CC and was a little league baseball coach for several years. He was an Oakland Raiders Fan and enjoyed his fantasy football league. He loved all sports; however, he greatly enjoyed watching his children in all their sporting events and activities. He had a unique sense of humor and enjoyed making other people smile, squirm and laugh! But above all, his family was everything to him.
Besides his mother and father, Robert and Alice Ames of Westfield, Terry is survived by his son, Zachery Ames of Bemus Point, NY and by his 3 daughters, Kayla, Kennedy and Kourtney Ames of Sherman, NY. Terry is further survived by his 3 brothers, Christopher J. (Kathy) Ames of Mayville, NY, Todd R. (Donna) Ames of Delaware, OH and Andrew R. (Carrie) Ames of South Ripley, NY. Several nieces and nephews also survive.
Friends may call at the MASON Funeral Home, 37 Clinton St., Westfield, NY, on Saturday, January 14, 2017 from 1-4 PM, and are invited to join with Terry's family for a time of reunion and refreshment immediately following the calling hours in the Fellowship Hall of The United Methodist Church of Westfield, 101 East Main St., Westfield.
Flowers are gratefully declined and Memorials in Terry's Honor are suggested to his children's education fund. Please make contributions payable to the Terry Ames Memorial Fund at any M&T Bank.
Log on to www.masonfuneral.com to send Terry's family a message of sympathy, to light a Memorial Candle or for further information.