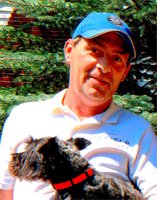 Martin A. "Marty" Wright
WESTFIELD - Martin A. "Marty" Wright, age 47, of North Portage St., Westfield, formerly of Mayville, died unexpectedly, Sunday, December 25, 2016 at Westfield Memorial Hospital.
Marty was born on November 21, 1969 in Westfield, NY, the son of Newton Wright and Eunice (Shaw) (Wright) Baldwin both of Mayville.
He was a 1989 graduate of Mayville High School and received his certification as an Automobile Mechanic. He had worked for the Village of Mayville DPW and for various Gas Well Drilling businesses that included Belden and Blake Corporation and Aero Gas Co. He was a certified welder and had been a supervisor on the construction of a West Virginia Pipeline. He had also been employed by the water well drilling industry. He was a standout football player during his high school days and was voted Captain of his team for all 4 years of School. He set and still holds many school records that remain unbroken. Marty was an avid golfer and could work on and drive anything that had a motor. He raced stock cars at State Line and Erie Speedways. He greatly enjoyed snowmobiling was a NYS Grass National Champion.
Marty was a member of Mayville Sons of the American Legion and the Mayville VFW. He loved life and never stood still prior to becoming disabled. He loved animals of all kinds and is survived by his loving dogs, Lemmie and Jaxx.
Marty was the most loyal friend that anyone could ask for and considered the Buxton brothers part of his family. Family first and friends next is how Marty lived his life.
He is survived by his wife and best friend of over 30 years, Jeanni (Perdue) Wright , his daughter, Michaela Barringer of Sherman, NY and his son, Johnathan Paddock, II of Myrtle Beach, SC, and by his grandchildren, Kaylee and Kara Paddock of Myrtle Beach, SC;
Marty is further survived by his mother Eunice Baldwin and her husband Melvin and his father Newton Wright and his wife Kathleen, and his sister Christine and William Peterson all of Mayville, NY, as well as by his step-brother, Jeffrey Baldwin, step sister, Jennifer Majewski, step brothers, Graham and Shawn Kelly and his In-laws, Walter and Deb Perdue of Barcelona, NY. Several nieces and nephews also survive.
He was preceded in death by his Mother in Law, Arlene (Kitty) Lillie.
Memorial Services will be announced and conducted in the spring.
Memorials may be made to Northern Chautauqua Canine Rescue, 7540 North Gale St., Westfield, NY 14787 or to St. Judes Children's Research Hospital, 501 St Jude Place
Memphis, TN 38105.
Funeral arrangements have been entrusted to the MASON Funeral Home, 37 Clinton St., Westfield, NY 14787. Log on to www.masonfuneral.com to send Marty's family a message of sympathy, to light a Memorial Candle or for further information.